A Message from Vice President Biden to Nuns on the Bus
On the eve of the final day of Nuns on the Bus 2020, former Vice President Joe Biden sent a letter in support of our efforts. Over the course of the last month the Nuns of the Bus have held over 60 Site Visits, Town Halls, Dialogues across Geographic Divides, and Rallies, and this letter comes from a place of gratitude for our being together and our commitment to making a difference in these challenging digital times. For me this letter expresses how former Vice President Joe Biden's own faith is rooted in a commitment to the common good.
Read the letter below: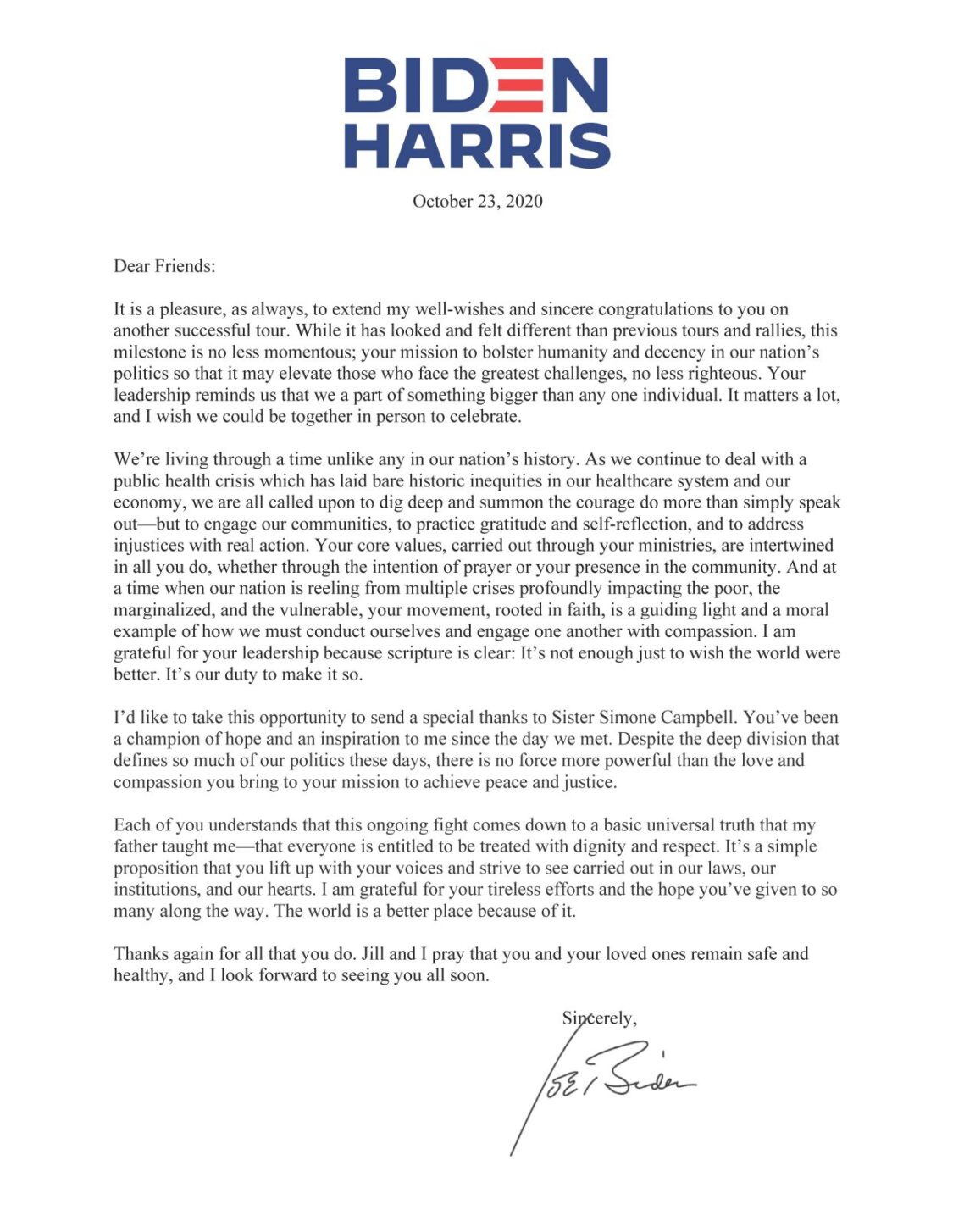 Dear Friends:
It is a pleasure, as always, to extend my well-wishes and sincere congratulations to you on another successful tour. While it has looked and felt different than previous tours and  rallies, this milestone is no less momentous; your mission to bolster humanity and decency in our nation's politics so that it may elevate those who face the greatest challenges, no less righteous. Your leadership reminds us that we a part of something bigger than any one individual. It matters a lot, and I wish we could be together in person to celebrate.
We're living through a time unlike any in our nation's history. As we continue to deal with a public health crisis which has laid bare historic inequities in our healthcare system and our economy, we are all called upon to dig deep and summon the courage do more than simply speak out––but to engage our communities, to practice gratitude and self-reflection, and to address injustices with real action. Your core values, carried out through your ministries, are intertwined in all you do, whether through the intention of prayer or your presence in the community. And at a time when our nation is reeling from multiple crises profoundly impacting the poor, the marginalized, and the vulnerable, your movement, rooted in faith, is a guiding light and a moral example of how we must conduct ourselves and engage one another with compassion. I am grateful for your leadership because scripture is clear: It's not enough just to wish the world were better. It's our duty to make it so.
I'd like to take this opportunity to send a special thanks to Sister Simone Campbell. You've been a champion of hope and an inspiration to me since the day we met. Despite the deep division that defines so much of our politics these days, there is no force more powerful than the love and compassion you bring to your mission to achieve peace and justice.
Each of you understands that this ongoing fight comes down to a basic universal truth that my father taught me––that everyone is entitled to be treated with dignity and respect. It's a simple proposition that you lift up with your voices and strive to see carried out in our laws, our institutions, and our hearts. I am grateful for your tireless efforts and the hope you've given to so many along the way. The world is a better place because of it.
Thanks again for all that you do. Jill and I pray that you and your loved ones remain safe and healthy, and I look forward to seeing you all soon.
Sincerely,
Joe Biden