We Cannot Allow This Cruelty in Our Country
Fighting Immoral Policies Tearing Families Apart at the Border
U.S. Representative Pramila Jayapal
August 17, 2018
Our nation is in crisis. The words on the Statue of Liberty—"Give me your tired, your poor, your huddled masses yearning to breathe free"—seem far away as families on the border are separated as a result of President Donald Trump's inhumane and cruel "zero tolerance" policy.  The policy has resulted in thousands of children being placed in tent cities, shelters, and foster homes across the nation, with no plan to reunite them with their parents.
Two weeks ago, I spoke with 174 women who were, at the administration's orders, transferred thousands of miles from the southern border to a federal prison just outside Seattle. Most of these women were asylum-seekers, fleeing rape, violence, and persecution. The majority had been held in various facilities for over two weeks, many for over a month.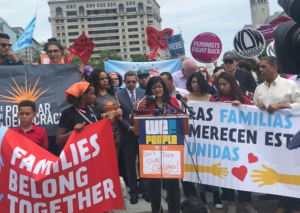 The mothers had been separated from their children at the border, and not a single one had spoken to their children since then. All but two of the mothers did not even know where their children were. They wept as they told me that they had been "deceived" by agents who told them to just leave the room for a minute to take a picture or see a judge, and when they returned, their children were gone. They didn't even have a chance to say goodbye.
The women I spoke to had already made heartbreaking choices in deciding to come to the United States. One woman told me that her oldest child was shot killed by gangs, her second shot and paralyzed, and that she had to leave that paralyzed child in order to try and save her third child. She had been separated from that last child at the border and had not seen him in a month. Another woman traveled to the border with one child, leaving another child who was blind behind because she knew he could not make the difficult journey.
I am an immigrant and a mother, and what I heard breaks my heart.
We must demand that Trump fix the crisis he created, and reject his false claims that he has taken any action to do that. The executive order he signed does not reverse his zero-tolerance policy that created these abuses and violations; instead, it allows for the indefinite detention of children and their parents in family prison camps. His administration has challenged a previous court settlement that clearly states that children cannot be detained for more than 20 days. That means that, very soon, either he is going to separate families again or he is going to defy that court order and continue to detain children illegally. Does anyone seriously believe that incarcerating children is a solution to the crisis the president has created?
On top of that, the administration has no plans to reunite the thousands of children who have already been separated.
We cannot stand for this. As one of only a dozen members of Congress born outside of the United States, I began my organizing in the wake of 9-11, forming Washington's largest immigrant advocacy organization to combat the abuses at the time against Sikhs, Muslims, Arabs, and immigrants. I saw then that strength emerges in times of crisis and that is what we must focus on building all over again today. That's why I'm calling on Trump to overturn his zero-tolerance policy, reunite families, and release them from their prisons.
This isn't about politics—it's about right and wrong. We have to stand up for America.
Representative Pramila Jayapal represents the state of Washington's seventh district. The first Indian-American woman in the House of Representatives, Representative Jayapal has spent the last twenty years working internationally and domestically as a leading national advocate for women's, immigrant, civil, and human rights.
Originally published in Connection Magazine. Read the full issue here.