H.R.40 Re-Introduced in the 118th Congress
On the first day of the 118th Congress, Representative Sheila Jackson Lee (D-TX) reintroduced H.R.40 with a speech on the House floor. In her speech, Rep. Lee noted, "H.R.40  is a crucial piece of legislation because it goes beyond exploring the economic implications of slavery and segregation. It is a holistic bill in the sense that it seeks to establish a commission to also examine the moral and social implications of slavery."
H.R.40 was first introduced in 1989 by former Representative John Conyers (D-MI) and has been introduced in every Congress since. In the last Congress, H.R.40 passed out of the House Judiciary Committee for the first time in its history, however, it failed to receive a vote on the House floor.
NETWORK, and our multi-faith coalition partners, strongly support the passage of H.R.40, however, given the reality of the divided Congress, we also call on President Biden to establish a commission on reparations via Executive Order.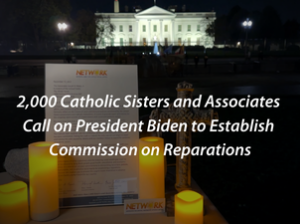 Last year, more than 2,000 Catholic Sisters and Associates sent a letter to President Biden, urging him to fulfil his campaign promise to support reparations. The letter followed a months-long campaign to build support for reparations with vigils organized by NETWORK advocates to pray and act for reparations. The vigils were held across the country in-person and online with local and national faith leaders.
Creating a commission to study and develop reparations proposals, as outlined in H.R.40, is the only policy that will lead to concrete proposals for repairing the damage that the United States government has inflicted on Black people. Its passage will allow us to move towards dismantling white supremacy and towards repair so that we can build anew together.
Catholic Social Teaching is clear: racism is a sin. Our faith teaches us to reject the immoral system of white supremacy and to work for truth-telling and repair. We can no longer deny the sins of the past and its ongoing implications Black people experience every day. NETWORK urges Congress to support and pass H.R.40 in the 118th Congress.