For Immediate Release: November 21, 2022
Contact: Colleen Ross, cross@networklobby.org, 202-601-7877
Catholic Lobby and Interfaith Community Urge President Biden to Have 'Faith in Reparations'
2,000 Catholic Sisters and Associates Urge President Biden to Fulfill Campaign Promise and Establish Reparations Commission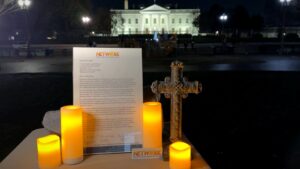 WASHINGTON, D.C. – Today, NETWORK delivered a letter to the White House signed by more than 2,000 Catholic Sisters and Associates of Congregations of Women Religious.
The letter reads, "The Catholic faith tradition calls for confession, penance, and restitution when a sin has been committed. Telling the truth is, indeed, the only way we can begin to repair and redress the pain caused by slavery and our country's failure to repent for centuries of systemic racism." It concludes by imploring President Biden to "answer this urgent moral imperative to advance justice and build a better future for our country."
NETWORK, along with faith-based and secular advocacy partners, call on President Biden to establish a reparations commission via executive order before the end of the year. Prior to delivering the letter, last week NETWORK held "Faith in Reparations," an online vigil with more than 200 attendees, calling on President Joe Biden to honor his campaign promise to support a reparations study.
The vigil featured NETWORK deputy executive director and chief equity officer Joan F. Neal, as well as Dr. Iva Carruthers, Rev. Dr. Jacqui Lewis, Rabbi Jonah Pesner, Rabbi Aryeh Bernstein, and Sr. Anita Baird DHM, national leaders in the movement for reparations from the Catholic, Jewish, Presbyterian, and United Church of Christ traditions. The speakers and attendees were united in praying and calling on President Biden to establish a reparations commission via executive order.
Find quotes from the event speakers below, and the "Faith in Reparations" event recording here.
Joan F. Neal, deputy executive director and chief equity officer, NETWORK Lobby for Catholic Social Justice, said: 
"We are gathered because, as a country, we have a moral obligation to study the harms of slavery and its legacy and to ask what amends must be made to generations of African Americans whose lives have been fundamentally harmed. Mr. President, fulfill your promise. Help us find the 'soul of our nation,' so the country can take a giant step forward in building a new society – one that is finally worthy of the ideals of democracy."
Dr. Iva E. Carruthers, general secretary of the Samuel DeWitt Proctor Conference, said: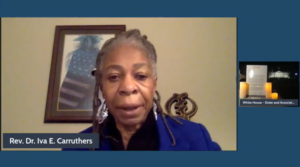 "We stand in the ancestral memory of Callie House and Queen Mother Moore and Congressman Conyers who passed the mantle to Congresswoman Sheila Jackson Lee. The transatlantic slave trade was global but so is the reparatory justice movement global. This executive order, we are demanding it right now. By the power of the Holy Spirit, in truth and in faith, we are going to dismantle the dominion theologies which have given rise to centuries of the harm."
Rabbi Jonah Dov Pesner, director, Religious Action Center of Reform Judaism, said: 
"Our Jewish texts are clear on the importance of restitution for wrongs committed. Even as 415 members of Congress voted to make Juneteenth a federal holiday, many of those same members are still hesitant to acknowledge the real, lasting, and ongoing harms of enslavement and systemic racism. If Congress is unable to create this commission through legislation, then the White House must establish this commission through executive order before the end of the year."
James Powell, director of strategy and partnerships for Trinity Arts, a faith-based art collective in Richmond, Virginia, said: 
"Jackson Ward was host to a thriving wealthy black community, but around 1954 the Virginia Assembly passed legislation to pass the Richmond Petersburg Turnpike, which is now part of I-95, to go through Jackson Ward. We lost more than just money. We lost community. Our dreams were scattered. So what are we doing now? We want justice. Of course, there is monetary compensation, but what we really want is atonement."
Rev. Dr. Jacqui Lewis, senior minister at Middle Collegiate Church, said: 
"I'm so sick of living in a nation that treats white rage as a sacrament and black grief as a threat. White rage is why we had Jim Crow. White rage is why we had redlining. All of the structures in our nation are built around white rage's disdain for Black people's beauty and body and joy. I'm so tired of the permanent pernicious nature of white supremacy in this nation that is now in a wicked dance with Christianity, blessing with Jesus's name and in the name of God this vile hatred that is always directed to my people. We need you, Sir, to take action to once and for all put reparations on the center of our nation's agenda."
Sr. Anita Baird, DHM, founding director of the Archdiocese of Chicago's Office for Racial Justice, said: 
"The promissory note that Dr. King spoke about 70 years ago next year at the March on Washington is still in default. The bad check continues to bounce. Reparations are not about a handout, but about America fulfilling her promise of life, liberty, and the pursuit of justice for all. And until this injustice is acknowledged and rectified, there can be no healing and no moving forward. The Biden administration must uphold its promise to African Americans. It is a matter of justice. It is a matter of life. Now is time."
Rabbi Aryeh Bernstein, National Jewish Educator at Avodah and Educational Consultant for the Jewish Council on Urban Affairs, author of The Torah Case for Reparations, said: 
"I come here as a Jewish person saying that in our tradition, reparations are not radical. In fact, they are the most normal, most legally obvious, and in fact, foundational piece of our most central mythic story They are a part of the mythic scriptural tradition of the liberation of slaves from Egypt. There is no liberation without reparations. President Biden, sign the executive order today."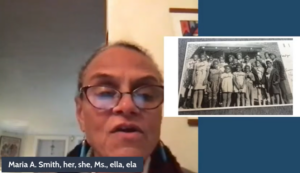 After sharing her family's history, which included her mother attending a one-room schoolhouse and being kept from attending high school, Maria Smith, a lawyer and advocate in Cleveland, Ohio, said:
"Reparations for me are part of a framework, a practice of discipline that helps me not to be depressed about past oppression and the dangers lurking today. I urge President Biden and his Administration to form a federal commission on reparations."
NETWORK's letter follows a previous letter sent to the White House this past July, by NETWORK and other faith-based organizations, including Jewish, Quaker, Muslim, Lutheran, Methodist, Unitarian, and Baptist partners asking President Biden to establish this commission. Prior to that, on Juneteenth 2022, Senator Cory Booker (D-NJ) and 10 other Senators wrote to President Biden with this same request. Mary J. Novak, Executive Director of NETWORK Lobby for Catholic Social Justice had previously published an Op-ed in Newsweek, During the Easter Season, Catholics Across the Country Call for Reparations, urging President Biden to create a reparations commission.
###
NETWORK – advocates for justice inspired by Catholic Sisters – educates, organizes, and lobbies for economic and social transformation. With a 50-year record of accomplishment and more than 100,000 supporters across the country, NETWORK lobbies for federal programs and policies that support those at the margins and prioritize the common good. www.networklobby.org