For Immediate Release: July 26, 2021
Contact: Colleen Ross, cross@networklobby.org, 202-601-7877
Download as a PDF.
3,685 Sisters Sign 'Nuns' Letter' to President Biden and Senator Schumer for Democracy Reform
Catholic Sisters Deliver Letter to Senator Schumer Urging Him to Bypass Filibuster and Pass S.1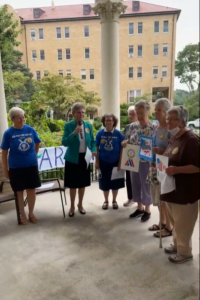 NEW YORK/WASHINGTON – Today, a letter signed by more than 3,685 Catholic Sisters in support of S.1, the For the People Act, was delivered to President Biden and Majority Leader Schumer. The letter tells President Biden and Senator Schumer not to let minority opposition prevent the Senate passing the For the People Act any longer. The Sisters' message: "As Catholic women religious, we see and affirm the dignity of every person. Knowing that all people are made in the image and likeness of God, we cannot tolerate policies or practices that suppress voters' ability to participate fully in our democracy, especially Black, Brown, and Native American voters."
Sister Quincy Howard, OP, NETWORK Government Relations Specialist, who helped organize the letter, said, "Sisters feel a real urgency to respond to the rising threat to our democratic institutions. A healthy democracy is our means for creating a better world and therefore this is a moral issue of the utmost importance."
Responding to the Nuns' Letter, Senate Majority Leader Chuck Schumer said: "Republican state legislatures across the country are engaged in the most sweeping voter suppression in 80 years, and I applaud the Sisters of St. Joseph in Brentwood and beyond for their support of American democracy and for S.1, The For The People Act. The Senate vote I held last month, with all 50 Democrats voting in favor, represented the starting bell – not the finish line – in our fight to protect democracy, and as majority leader, I am exploring all options to bolster voting rights and advance democracy-reform legislation for another vote on the Senate floor."
Referencing the Senate's failed 50-50 cloture vote on S.1 on June 22, the letter states, "Senate rules like the filibuster cannot be allowed to indefinitely prevent the passage of critical freedom-to-vote legislation that will protect our democracy…The idea of 'bipartisanship' cannot be twisted to obstruct reforms to save our very democracy. Despite the obstacles we face, We the People must keep striving to create the multi-racial, representative democracy enshrined in our Constitution"
Executive Director of NETWORK Lobby for Catholic Social Justice, Mary J. Novak, said, "Today, more than 3,000 Catholic Sisters are raising their moral voice to call on President Biden and Senator Schumer to show true leadership by advancing the For the People Act before August recess. As state legislatures continue to propose and pass racist voter suppression laws and the time for redistricting approaches, may every person and every politician hear the Sisters: the right to vote must not be infringed."
Sr. Susan Wilcox, CSJ, a constituent who delivered the letter to Senator Schumer and the Justice, Peace, and Integrity of Creation Coordinator for the Sisters of St. Joseph of Brentwood said, "Voting is a right and a responsibility, but voting rights are under attack. Strict voter registration requirements, extreme partisan gerrymandering, voter purges, and long wait times are disruptive and disenfranchising. We need democracy reform now to protect our next election."
Sister Quincy Howard, OP concluded, "Voting rights are sacred, and every person is called to resist attempts to infringe on a person's right to vote at the local, state, or federal level. Congress must pass the For the People Act. Catholic Sisters say recess can wait: pass S.1 now."
Read the full text of the letter at networklobby.org/2021sistersletter. Photos from the letter delivery are available to download at flickr.com/photos. Catholic Sisters sent a similar letter in 2010, calling on the House of Representatives to cast a "life-affirming YES vote" on the Affordable Care Act, which was widely attributed as crucial to the final passage of the ACA. Catholic Sisters again sent a message to Congress in 2017 urging them to oppose dangerous attempts to repeal the ACA.
###
NETWORK Lobby for Catholic Social Justice – advocates for justice inspired by Catholic Sisters – educates, organizes, and lobbies for economic and social transformation. They have a nearly 50-year track record of lobbying for critical federal programs that support those at the margins and prioritize the common good. www.networklobby.org