For Immediate Release: March 21, 2022
Contact: Colleen Ross | cross@networklobby.org | 202-601-7877
Catholic Lobby Denounces Two Years of Misusing Title 42; Call for Immediate End
Ronnate Asirwatham: "Two years is too long for Title 42. We must restore asylum and end this harmful policy at once."
WASHINGTON, D.C. – On the second-year anniversary of the Title 42 policy, NETWORK Lobby for Catholic Social Justice, along with 15+ immigrants' rights groups, gathered outside the Center for Disease Control (CDC) in Washington, D.C. to demonstrate their opposition to the Biden administration's continuation of the misuse of Title 42. The Title 42 expulsion policy, which has no medical basis, has led to the inhumane expulsion of over 1.5 million asylum seekers at the Southern border.
Since President Biden took office, NETWORK's community of Catholic Sisters and justice-seekers have repeatedly called on his Administration to end the misuse of Title 42 and restore asylum. Despite the lack of justification for this the xenophobic policy and criticism from public health officials, the CDC has continued to renew the Title 42 order.
Ronnate Asirwatham, Government Relations Director of NETWORK Lobby for Catholic Social Justice, said:
"Two years is too long for Title 42. Immigration advocates and the faith community do not tolerate the CDC's and President Biden's complicity in rationalizing and legitimizing this harmful, racist policy. This policy was designed to negatively impact asylum seekers and migrants, especially Black and Brown migrants. We must restore asylum and end this harmful policy at once."
Mary J. Novak, Executive Director of NETWORK Lobby for Catholic Social Justice, said:
"As people of faith, we are called to love our neighbor without distinction. Title 42 dishonors the dignity of migrants and violates the internationally recognized right to seek asylum. President Biden must act in accordance with his Catholic faith and end the racist Title 42 policy before more people are subject to violence and persecution."
Title 42 expulsion was enacted by President Trump on March 20, 2019 and the first immigrants were expelled on March 21. Since then until February 2022, 1.7 million immigrants have been expelled without a judicial process.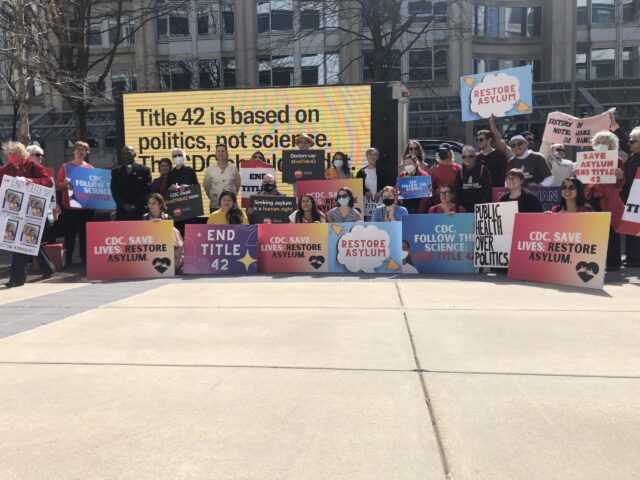 Co-Sponsors of today's vigil include: The Quixote Center, Haitian Bridge Alliance, United We Dream, the #WelcomeWithDignity Campaign, Physicians for Human Rights, ACLU, Pax Christi USA, Franciscan Action Network, the Latin American Working Group, Detention Watch Network, Doctors for Camp Closure, Oxfam, Human Rights First, the Maryknoll Office for Global Concerns, CISPES: Committee in Solidarity with the People of El Salvador, and the Sisters of the Good Shepherd
A past livestream of the event is available for viewing here.
###
NETWORK – advocates for justice inspired by Catholic sisters – educates, organizes, and lobbies for economic and social transformation. They have a 50-year track record of lobbying for critical federal programs that support those at the margins and prioritize the common good. www.networklobby.org