Pope Francis Voter Tour Update: Cristo Rey Community Center Site Visit
During this year's Pope Francis Voter Tour, NETWORK came to Lansing, Michigan to visit the Cristo Rey Community Center. Members of NETWORK's East Lansing Advocates Team have been volunteering with this incredible direct service provider and when they heard NETWORK would be traveling ahead of this year's upcoming election, they recommended a stop at Cristo Rey.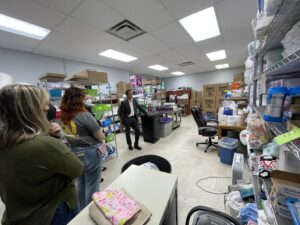 Early in the morning, NETWORK was greeted by Joe Garcia, CEO of Cristo Rey, who welcomed us and provided a rich overview of Cristo Rey's more than 50-year history of  service to the community.
Originally, Cristo Rey came together to support immigrant communities traveling to Michigan in search of agricultural work and the center helped families find housing, settle down, and commune as neighbors. Over time the need has changed and Cristo Rey Community Center has become an integral support for all those in Lansing experiencing poverty.
A revamped school building now houses a family health center, counseling services, a community kitchen, food pantry, community clothing closet, financial literacy support, personal hygiene and care supplies, and even a steady supply of diapers, infant formula, and other infant needs.
While containing all these services under one roof may seem overwhelming, it removes a huge accessibility barrier for many folks who rely on public transit to receive these necessary supports. With a bus stop directly outside the community center, folks without cars can reach this wide range of services all in one place.
As we toured this facility, asking questions about the community they have created as a staff and the community they serve, we were continually amazed by the breadth and depth of work. In the face of insurmountable challenges of the COVID-19 pandemic and other current events, Cristo Rey has remained dedicated to providing service with dignity.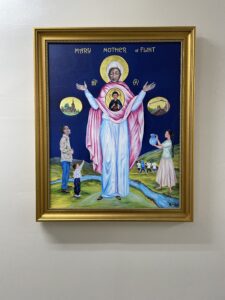 A few of the highlights shared with us about the service they provide:
Over 18,000 hot meals provided to Afghan refugees in the last year
Nearly all patients are either Medicare/Medicaid recipients or uninsured
All patients receive at least a 30-minute appointment, in English or Spanish, and are given the utmost attention and care
Community Kitchen serves over 26,000 hot meals a year
Distribute approximately 4,000 containers of baby formula and 63,000 diapers
This site visit was a beautiful stop on the Pope Francis Voter Tour and a reminder of the importance of working for federal policies that advance racial, economic, and social justice. To be in community with those who are pushed to the margins by our systems and structures and experiencing poverty is critical to our advocacy efforts at NETWORK. The need for affordable housing, accessible health care, and the ability to put food on the table every week are basic needs that every person should have and yet, due to systemic failures, we have amazing people like the staff and volunteers at Cristo Rey who are called to fill in the gaps left behind by our policies.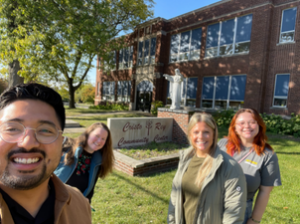 We hope everyone will keep these issues in mind when they vote in this midterm election and every election after. Being a multi-issue voter and committing to consistent advocacy for the issues that impact all of us is sacred work.
We are so thankful Cristo Rey opened their doors and welcomed us to learn about their community and the services they provide with such dignity. To support their efforts, you can see their wish lists for donated items here as well as their donation page.