To Honor Pride, Pass the Equality Act Now!
On June 15, 2020, the Supreme Court announced that the federal law that bars sex discrimination in employment also applies to LGBTQ+ workers. This landmark decision is especially significant because June marks the celebration of Pride month for the LGBTQ+ community.
NETWORK applauds this historic recognition of human rights, but the struggle for equality isn't over. Last week, the Trump Administration finalized a rule that erases protections for transgender patients against discrimination within health care. LGBTQ+ people, especially LGBTQ+ BIPOC, cannot access housing, health care, and more. We need the Equality Act to address systemic discrimination LGBTQ+ people face every day. We strongly affirm people of all sexual identities, orientations, genders, and expressions; this is why we call on the Senate to vote on the Equality Act now!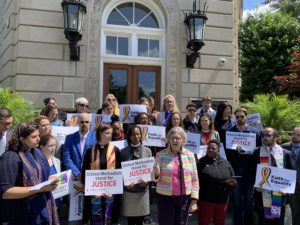 The Equality Act, which the House of Representatives passed over a year ago, provides needed legal protections from discrimination for all LGBTQ+ people. When LGBTQ+ people identify themselves as such in the workplace, they often face unequal treatment, disrespect, and even losing their jobs. When LGBTQ+ people identify themselves as such when applying for housing, they risk being homeless. When LGBTQ+ people seek medical care, they are often turned away because of who they are or who they love. This must come to an end now.
The legal protections offered by The Equality Act are especially pertinent now, during the COVID-19 pandemic. LGBTQ+ people are afraid to take paid leave if they or a loved one is sick because they are afraid of workplace discrimination. A survey by the Human Rights Campaign found that 27% of LGBTQ+ people of color and 16% of LGBTQ+ white people say they are afraid to request time off to care for a loved one because it might disclose their LGBTQ identity. LGBTQ+ people of color are disproportionately affected by this because they fear losing their job for taking paid leave 44% of the time compared to 37% of their white counterparts. Passing the Equality Act would create better access to paid leave for LGBTQ+ people.
At the Faith for Equality Rally before the House vote last year, Sister Simone said, "Love and welcome are at the center of what we care about as people of faith." This statement still echoes today, when the Equality Act still has yet to be voted on in the Senate. We urge Senate leadership to swiftly vote on the bill with love and welcome in their hearts. To honor the legacy of Marsha P. Johnson and Sylvia Rivera leaders of the Stonewall Uprising and the LGBTQ+ movement, it is time to make the Equality Act law.