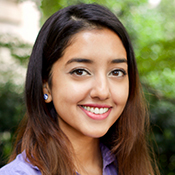 Digital Communications Specialist
Mehreen is the Digital Communications Specialist and manages NETWORK's advocacy platforms, email program, and social media. She engages the NETWORK community by coordinating opportunities for members to advocate and communicate with their elected officials—all from the comfort of their own home. Through social media and email, Mehreen keeps over 50,000 members of NETWORK updated on policy changes and current events happening here in DC. Mehreen recently graduated from the University of Georgia where she studied International Affairs and Public Health. Throughout college she was introduced to progressive policy work while interning at the Center for Disease Control, Center for American Progress, and various women's health advocacy positions. On campus, Mehreen was a leader for the Muslim Students Association and AIESEC.
Where she finds inspiration for work:
• Social justice is the core of her faith in God and Islam
What she loves outside of NETWORK:
• Photography
• Chocolate chip cookies
• Baking chocolate chip cookies
Originally from: Atlanta, GA
Why she likes D.C.: There are countless opportunities for growth at her fingertips—whether it is a professional upgrade or chance to dive head on into social justice work—this city will hand opportunities to you.