Travel Log: Toledo Caucus
Sister Margaret McGuirk, OP
July 16, 2016
On Saturday evening, our third and final event in Toledo was our Mend the Gap caucus.  The  caucus held in Monroe Street United Methodist Church and hosted by Pastor Larry C. Clark.  We were warmly received by the energetic people gathered there.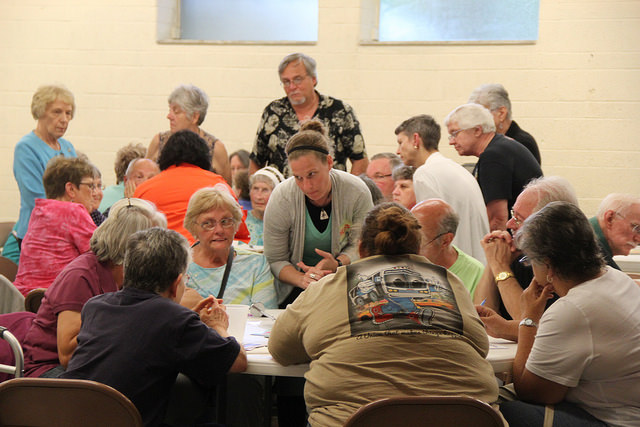 The discussion and sharing were profound and Sister Simone pulled together the concerns and the dreams for the future of our nation.
Then, in our small group discussion we talked about the "gaps" in Toledo. We heard many of the similar things we had heard in other cities. People talked about lack of affordable, quality housing, public transportation, and there were also concerns about racism.
Sister Simone then asked us to envision a society where these gaps were mended. There were some wonderful ideas. I especially enjoyed hearing a young person talk about the need for equal access for all to voting. This youth also spoke about how quality education is vital to a democratic government.
The group also talked about gerrymandering, which has been a serious problem in Ohio. They said that in order to mend the gap in access to democracy, we needed to have just, non-partisan mechanisms for drawing congressional boundaries without regard for party affiliation. The participants in our caucus also agreed that we needed to change the way electoral campaigns are funded to reduce the influence of special interest groups and wealthy donors.
Overall, there seemed to be particular concern about voting and democracy here in Toledo tonight. This is a value also emphasized in Catholic Social Teaching:  responsible citizenship is a virtue, and participation in political life is a moral obligation.
See also:
Slideshow: Toledo Caucus
Reflection on Day Six: Choosing Positive Change