Back to Stories
Darius Cephus - Boston, Massachusetts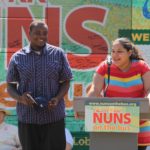 Darius shares his story of how he started working at McDonalds when Boston had a minimum wage of $8 an hour. He worked there for three years and only received a raise of $0.25, and that due to his going on a strike. During the strike his store owner came down from a baseball game to ask why he went on strike.
The manager asked if he was going to go on strike again. He responded that until the working conditions and treatment improves he will keep going on strike because "we deserve more" and "we're worth more."
He calls attention to the fact that people who work fast food are working every day to provide for their families. One of his friends has four jobs and rarely sees his children. He notes that workers need to advocate for themselves and fight for fair working conditions and pay.
Darius notes that "this is a community that needs it [a better economy], this is a community that deserves it, this is a world that deserves it." He advocates for a better working economy that serve the workers and that we can all be proud of.
He shows how through his work he has found an apartment and thought he could make a living through hard work. However, his job started cutting his hours from 40 hours a week eventually down to 10 or 15 hours a week. Due to these hour cuts he lost his apartment and way of living. He ends by sharing that the one thing they can't take is his faith.