Back to Stories
Friar Mario Serrano - Terre Haute, Indiana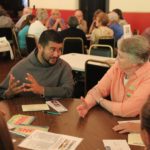 Friar Mario shares some of his views on immigration, as well as some of his personal experience.
He borrows the terminology of Melissa Browning and calls attention to the need for us to "reexamine our words and reimagine our policy" surrounding immigration. He observes that when we speak of our undocumented population and immigration policy, it can seem unclear whether we're talking about people or objects. He calls us to humanize the discussion.
Within that, Friar Mario shares that his father was deported in 2010, and some of his experience surrounding his upcoming ordination.