Back to Stories
Jennifer Freeland-Davis - Fort Wayne, Indiana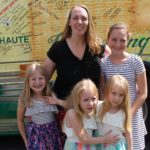 Jennifer's family was a "typical suburban family," she was a stay at home mom active in the schools and 6 months pregnant when her husband suffered a massive heart attack.
He experienced the heart attack on a Friday, had a stint put in the following Tuesday, and by that Thursday was back at work. The following Wednesday he received a severe neck injury while at work, and a week later was terminated from his job. Her family went from a six figure income to no income in fifteen days.
She was able to use her networks of friends and families to help them through this challenging time, while her husband was involved in the extensive process to get unemployment and disability benefits. They ended up losing everything and having to move to the shelter.
Jennifer calls attention to the unfair stereotyping of her as lazy for not having a job after her husband was seriously injured. She calls out these judgements as unfair, noting that her husband, who was bedridden,was not only unable to take care of the children but required care himself for up to 24 months. She also notes that it's extremely difficult to get hired when you're six months pregnant.
Jennifer also highlights the difficulties her family faced after leaving the shelter, for as soon as her husband was working and they moved into their new house they lost all assistance, including food stamps. It was only through much difficulty that they were able to make their rent and afford food and other necessities for their family.