Back to Stories
Julie Eide - Janesville, Wisconsin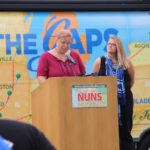 Julie Eide speaks about her experiences of homelessness and eviction with three young children. She has experienced homelessness twice, the second time receiving help from her church community after she was evicted and unable to find someone to rent to a family with an eviction record. However, she calls attention to the many families who falls through the cracks of social services and organizations. "There is nothing more terrifying than not knowing where you're going to lay your head at night," she says as she tells her story and advocates for mending the gaps.
"A lot of economic strife is due to the lack of good jobs, and too many low paying ones" she notes,  adding that the cost of higher education is also way too high, especially with the possibility of not being able to use your degree or get a job after graduation.
With these factors in mind, she calls on Wisconsin to raise the minimum wage!
Additionally, Julie shares her experience as a mother on disability for her mental illness. She still needs her children to stay with her cousin. She shares her need for a good enough job with health insurance to cover her healthcare needs and the health needs of her family, in order to have her children live with her full time.
Finally, she calls us all to vote to make a difference in mending the gaps in our society and reduce hardships for all people!