Back to Stories
Youth of the Church of the Transfiguration - Rochester, New York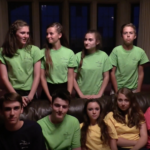 Amy Azzara, Sabelle Palmatier, Robert Nolan, and Grace Winfree of the Church of the Transfiguration are on a summer service retreat with the Sisters of St. Joseph. They and their peers are working in five different service sites this week.
Sabelle notes how, having grown up in the suburbs of Rochester, it wasn't until this week that she realized how much help others in Rochester need. She expresses her gratitude that her eyes have been opened to these experiences.
Robert shares his work at Nazareth Elementary school, the last Catholic school in Rochester. He shares how many of the kids have scholarships and that some of the refugee students in particular didn't have lunches and weren't aware of resources available to help them succeed in school.
Grace volunteers at the Bethany House, a women's shelter. In her work she has noticed that some of the women are both not registered to vote and don't realize that they can vote- issues that came up in her Mend The Gap Caucus discussions.