Virtual Lobby Day: Dismantling Racism in Our Criminal Legal System
On May 12, 2021, more than 120 justice-seekers from across the country went on 50 lobby visits to urge their Representatives to co-sponsor and vote YES on the EQUAL Act (H.R.1693). Thanks to you, our community of activists, the EQUAL Act now has ten new cosponsors – moving us closer to a criminal legal system that provides fair and equal justice under law!
For decades, the sentencing disparity between crack and powder cocaine offenses has contributed to our country's shameful legacy of systemic racism and mass incarceration despite being two forms of the same substance. As Executive Director of New Hour for Women and Children Serena Ligouri said at the Lobby Day Kick-Off Rally, "It is by no mistake, in fact it is intentional that racism has continue to perpetuate disproportionate sentencing in the carceral system. It is no longer okay to let our legislators stand back and perpetuate this in our communities." As we celebrate our advocates for educating our elected officials on the importance of the EQUAL Act, we know there is much more work to do.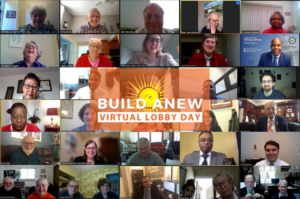 Mary J. Novak emphasizes how "being sentenced in today's U.S. criminal legal system is essentially a life sentence if you consider the severe consequences economically, the disruptions in family life, the limited future access to employment, housing, voting, the stigma, the trauma to both the person incarcerated and that person's family." In order to build anew, Congress must pass legislation that lifts bans on housing assistance and other social safety net programs for those who have been released from incarceration.
Every person is made in the image and likeness of God and deserves respect, dignity, and equal justice under law. We must support each other in these challenging times and continue working to pass policies like the EQUAL Act and George Floyd Justice in Policing Act. This will help dismantle systemic racism, eliminate the wealth and income gap, improve the wellbeing of our communities, and allow all people to thrive.
Stay engaged and find more ways to take action to advance policies that build our systems and structures anew at www.networklobby.org/ActNow.