Advent 2021: The Moral Demands of Migration
The Second Sunday of Advent symbolizes Faith or Love with the "Bethlehem Candle" reminding us of Mary and Joseph's journey to Bethlehem. In this week's Advent reflection, Ronnate Asirwatham, NETWORK of Government Relations Director, looks at how the journeys surrounding the birth of Jesus align with the suffering of migrant people in our world today:
Advent Evokes the Moral Demands of Migration
Jesus entered the world as a victim of forced migration with nowhere to go. Just as Joseph and Mary traveled far from home and were turned away, so too our world faces a refugee crisis that manifests itself across different continents and intersects with crises and conflicts sparked by political oppression, drug trafficking, and climate change.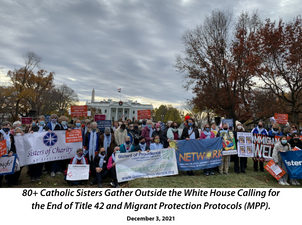 As Jesus spent his first night in a cave used to shelter livestock, countless families around the world have spent years in refugee camps, living in conditions that most people in the U.S. cannot fathom. And just as the Holy Family fled into Egypt, so also the people at our border flee unimaginable violence and other threats to their well-being.
On Christmas Eve 2017, Pope Francis preached on this stark reality and its religious dimensions:
"So many other footsteps are hidden in the footsteps of Joseph and Mary. We see the tracks of entire families forced to set out in our own day. We see the tracks of millions of persons who do not choose to go away but, driven from their land, leave behind their dear ones. In many cases this departure is filled with hope, hope for the future; yet for many others this departure can only have one name: survival. Surviving the Herods of today, who, to impose their power and increase their wealth, see no problem in shedding innocent blood."
We should ask ourselves this Advent with whom we're identifying, the refugee child who is God incarnate or the insecure tyrant who devalues his existence. One example of this is the Biden administration's continued use of Title 42, a Trump-era policy used to expel an unknown number of asylum seekers at the U.S.-Mexico border, putting them in harm's way and denying them the opportunity to seek life-saving protection. The coming of Jesus at Christmas is an urgent present day reality when we choose to recognize his presence in those who still seek refuge today.
Take Action!