20+ Faith Organizations Send Letter to Senate in Support of Pregnant Workers Fairness Act
In this 117th Congress, the Pregnant Workers Fairness Act is closer than ever to becoming law. For 10 years, a broad range of organizations have worked to get this critical piece of legislation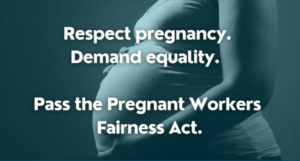 to where it is today. Now, with strong bipartisan support and enough votes to overcome the filibuster, the faith community has come together to show the urgency and need for its passage. More than 20 leading faith organizations have sent a letter to every Senate office urging each Senator to prioritize the bill and to vote in support of the legislation.
The letter's message: "The faith community values the dignity of work and the family. Pregnant workers and their families need the Senate's action. In the face of infant formula shortages and national economic difficulties, families across the country need the PWFA. We also know that support for healthy pregnancies means support for pregnant workers. The Senate must deliver on the promise of a dignified life for working families."
The time is now to give pregnant workers the dignity they deserve— it is time to pass the Pregnant Workers Fairness Act.
The letter was signed by the following organizations: Catholic Labor Network; Christian Reformed Church Office of Social Justice; Church World Service; Congregation of Our Lady of Charity of the Good Shepherd, U.S.; Council on American-Islamic Relations; Dorothy Day Catholic Worker, Washington D.C.; Evangelical Lutheran Church in America; Franciscan Action Network; Friends Committee on National Legislation; ICNA Council for Social Justice; Justice Revival; Leadership Conference of Women Religious; National Advocacy Center of the Sisters of the Good Shepherd; National Council of Jewish Women; Pax Christi USA; Sojourners; The Episcopal Church; Union for Reform Judaism