Updating Tax Policy in Public Education Works Toward Racial and Economic Justice
Daniela Zelaya
October 29, 2019
Every year, our lawmakers decide where they are going to spend taxpayer dollars. The past few years, the administration has unfortunately decided to cut funds for welfare programs such as SNAP, Medicaid, Social Security Income, housing assistance and a few others. Along with cuts to the welfare system also goes the education system. Last year, entire school systems around the country had to go on strike due to lack of funding. In fact, the Washington Post declared 2018 as "The Biggest Year for worker protest in a generation." They not only went on strike for their unfairly low salaries, but also for the overall lack of support from the government to fund public schools.
As many know, funding for public schools comes in many ways but mostly derives from property taxes. In turn, public schools benefit when they are in areas where property values are high. However, it is the opposite in areas where property values are not as high. That tends to be in areas with a high population of low-income families and families of color. As a result, teachers in these schools earn less and receive less and outdated resources for their students. No matter how much the Every Student Succeeds Act and the Common Core State Standards aim towards closing the achievement gap, the education of minority and low-income students is still incomparable to the education of white wealthy students. It is hypocritical for the United States government to want its students to rank high in comparison to the rest of the world but refuse to support their education. That is why this tax policy should be updated to create another mode of funding for the public education system in the United States.
A popular critique from people is that the government cannot just throw money at issues and expect them to be solved overnight. But governmental institutions cannot run properly without sufficient funding. Creating modern tax policies that reroute money into education helps teachers, students, the community, and the country as a whole.
Increasing teacher wages means giving them more time to prepare their lessons because they will not have to go to their second job after school or on the weekends. It will also give them the time to be able to pursue their master's degrees to become even more effective teachers. Additionally, it will encourage more high school students to become teachers and pursue a traditional four-year education degree.
Additional funding for schools can also provide for opportunities to coach new teachers through their first two years. For most rookie teachers, the first year is the "survival" year. During this year, teachers stay at school until nine at night trying to figure out how they can improve things the next day. Because of this, some burn out and leave the teaching profession, leaving classrooms full of children without a teacher. Resources that provide a mentor to first year teachers are valuable and are mostly being implemented in alternative teacher preparation programs, like Teach For America. However, it should be offered to proper public-school teachers who have already been trained for four years.
Changing tax policy to reroute money into public schools is an option to help the future of the United States, no matter where children come from or what their family's socioeconomic status is. A modern way of funding education would prevent the system from exclusively helping students from white and wealthy families.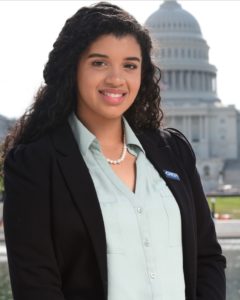 Daniela was born in the city of San Salvador, El Salvador. She came to the United States at the age of 3. As an undocumented person, and as the first person in her family to attend college, she understands the idea that a quality education should not be a privilege, it is a human right. She is currently a senior at Trinity Washington University, double-majoring in Early Childhood Education and Sociology. Daniela hopes to one day become the first Latina U.S. Secretary of Education.