Mary Novak Named in "2021's Faith Leaders to Watch"
Recently, the Faith and Progressive Policy Initiative at Center for American Progress (CAP) released a list of "21 Faith Leaders to Watch in 2021."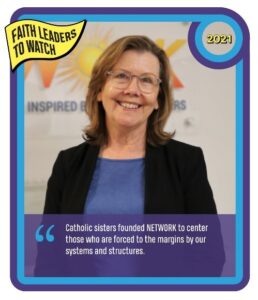 The list highlights the important work of faith leaders in leading our communities towards progressive, equitable change. NETWORK's Mary Novak was included on CAP's list alongside Anthea Butler (@AntheaButler), an associate professor of religious studies and Africana studies and interim chair of religious studies at the University of Pennsylvania and Shantha Ready Alonso, a former NETWORK staff member who led Creation Justice Ministries (@CreationJustice) before becoming Director of Intergovernmental and External Affairs at the Department of the @Interior.
When asked how her faith inspires her, Mary told CAP:
"My grounding in the Catholic intellectual and social tradition, lived through my Ignatian spirituality, motivates my work to transform federal policies and shapes me as a restorative justice practitioner. This prophetic, living tradition compels me to act out of a faith doing justice that is inclusive, centered on race and human dignity, and trauma-informed. Catholic sisters founded NETWORK to center those who are forced to the margins by our systems and structures. For me, this praxis is an essential place of connection, solidarity, and inspiration. Society has prioritized the powerful for too long."
We are thrilled Mary's leadership at NETWORK and commitment to advancing the Build Anew Agenda has been recognized amongst many other instrumental faith leaders. See the full list of CAP's "2021's Faith Leaders to Watch" here.