An Erie Connection
The Solidarity Needed To Transform Society Is a Local Issue
Erie, Pennsylvania shares many things with other communities, especially former industrial cities, in the U.S. Endemic problems like gun violence, high rates of poverty, food insecurity, and homelessness are common, as well as familiar to residents.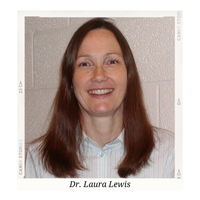 "Those issues have always been dominant in my mind," says Dr. Laura Lewis, chair of the Department of Applied Sociology and Social Work at Mercyhurst University. "And all these issues are interrelated."
"It's small enough of a city that things don't hide very well," adds Michelle Scully, Mercyhurst campus minister.
Michelle Knight, a retired social worker and a member of the Erie NETWORK Advocates Team, says the dynamics of the city were daunting for her as a social worker relocating to the area.
"If you don't know everybody, you don't know anybody," says Knight. But that didn't stop her from starting up a NETWORK Advocates Team in 2019, a year after the Nuns on the Bus made their second stop in Erie. A core group of about eight people meet via Zoom from across a range of backgrounds and roles in the community.
"What we have is a real shared love for Catholic Social Teaching and the social justice vision that that embodies," says Knight. "All of us are involved in other things that are helping the community."
Support NETWORK's work in Erie and across the country!
Wider efforts to foster solidarity in Erie reflect the efforts of the NETWORK team, with justice-seekers drawing from the charisms of women religious and relying on education to push past direct service into dismantling structures. They may not be working in direct coordination, but their discernment leads them to a shared justice vision.
Bridging Disparities
Prior to her retirement, Knight helped administer the Emergency Rental Assistance Program, connecting people in and around Erie to benefits. A divide she encountered was how social services were located in the city, but the rural outlying county had lots of poverty and many residents who couldn't travel, whether for lack of a car or gas money.
"Almost all of the benefits were more easily accessible if you had a computer – not a phone, not an iPad – but a computer and good internet," says Knight, who described her work as comparable to an IT person, walking with people through the steps of the application process. "I talked on the phone with people. Many people around here don't have internet."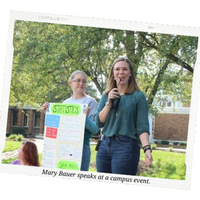 Mary Bauer, who graduated from Mercyhurst University in Erie this year with with a bachelor's in social work and criminal justice, says she came to college largely unaware of societal problems, but that quickly changed.
"Living in Erie I was able to see it first-hand," she says. Bauer would grow into a campus leader, organizing events including walks for suicide awareness and racial justice and helping NETWORK to plan an Intro to Social Change virtual event in 2021 with students and staff.
"They have been willing to listen and reflect and engage with the community," she says of the campus, citing the influence and values of the Sisters of Mercy, who are also active – along with Benedictines and the Sisters of St. Joseph – in service to the wider community. "If we don't embody these values, then we stand for nothing, really."
"I've had other [Mercyhurst University] classes that have been strong when it comes to advocacy, but this has been a great group," Lewis, who retired this year from her role leading the social work program after 23 years at Mercyhurst, says of her final graduating class.
An animating value of Lewis's tenure has been the necessity to push her students to get involved in the community and to think about issues at the systemic level.
"We need social workers working to bring about change at all levels," says Lewis, "direct service, organizing, improving organizations, and, importantly, influencing social policy. Without systemic change we will not create a society where all can thrive."
While not Catholic, Lewis has found NETWORK to be a tremendous resource, even welcoming her and a group of students to the NETWORK offices to meet with staff, learn about the Earned Income Tax Credit, and prepare for a lobby visit to Senator Bob Casey's office.
"It was a great experience overall," says Lewis. "We could not have a better visit than the one we did at NETWORK. It was just so helpful to me and the students."
Roads to Racial Justice
One of the students to participate in the visit to NETWORK was Michelle Scully, who graduated from Mercyhurst in 2016 and, after participating in Notre Dame's Echo Graduate Service Program, decided to integrate her social work degree into ministry. She recently completed her fourth year as Mercyhurst campus minister.
"It adds another dimension to the work, of doing the work in different ways and supporting people in personal ways, as well as on the advocacy level," says Scully.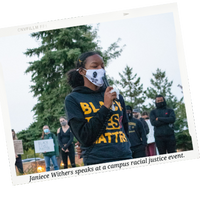 For the last four years, a standout student has been Janiece Withers, a young Black woman who graduated in 2022 with Mercyhurst's highest student honor, the Carpe Diem Award.
"She is one of the most hopeful people that I know," says Scully. "She's become a great community organizer."
The turning point for Withers was when she faced returning to campus in the wake of George Floyd's murder and the Black Lives Matter protests of 2020.
"I was terrified," says Withers, at the prospect of finding out what close friends thought of the events of that summer.
"If you honestly believe that there's nothing wrong with the number of Black people who have died," she says, "I can't be in the same area as you and trust you, because my life may be in danger."
Withers found herself speaking up in many different spaces, helping people to see the urgency in being anti-racist. The Erie NETWORK Advocates Team, who have worked on immigration
and climate issues, have also seen their work increasingly move into dismantling systemic racism.
Part of this involved NETWORK's workshop on the Racial Wealth and Income Gap, which breaks down the many factors contributing to socioeconomic disparity between Black and white  people in the U.S.
Help NETWORK continue offering the Racial Wealth and Income Gap and other educational workshops.
"Most of our team participated in a workshop, and we were just amazed," says Knight, who notes that members of the Erie team have lead the workshop locally several times.
"We've decided to focus on the racial justice piece," she says. "The community is speaking the words of being concerned. … The diocese is talking about wanting to do things. … It feels like a moment."
Whether that moments takes hold, Mary Bauer is hopeful, as she leaves Erie following graduation to intern as a social worker with a police department near her native Pittsburgh, her focus on civil rights concerns..
"I definitely think change will happen in Erie. I just don't think it will be super-fast," she says. "It's going to happen, because the Erie community is willing. It's just going to take some time and a lot of effort."
"Everyone in the community follows the Sisters of Mercy in their values," Withers says, noting that one one of those is anti-racism. "They just needed someone to lay it all out in front of them."
Don Clemmer is NETWORK's Content and Editorial Manager.