Travel Blog: Erie Site Visit and Caucus
Sister Mary Ellen Lacy, DC
July 19, 2016
On Tuesday evening, we arrived in Erie, Pennsylvania. We dropped in at Holy Trinity Lutheran Church where they have a meal and food program. We were able to have conversations with the guests who came to have dinner – and then after dinner, we helped each guest go home with a bag of groceries.
The site visits with people experiencing poverty are my favorite moments.  We can learn so much from those who suffer from poverty.  Tonight, through the example of good community, sharing the burden and openness were the lessons our Lord was to teach me.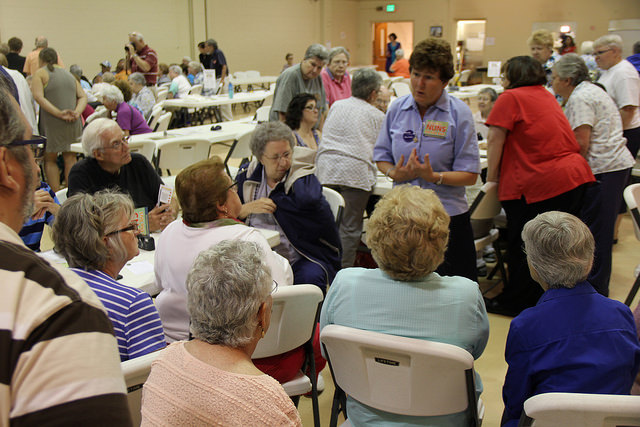 I sat with a young man, Franco, who came to the church every week for dinner with his friend Luke. Their ages were quite disparate but they were trusted friends. Each made sure the other had enough food, salt, and drink.  Franco immediately welcomed me to sit with them.  Franco came to the church because he knows that his faith and belly would be fed there.  He looked out for Luke because they were pals.
Then, I engaged with a young father and mother and their three little girls. They carpooled a mild distance with their neighbor every Tuesday because neither family had a paycheck and only one had transportation. The girls were aged 2-7 years and they were known to the regular servers by name. I was happy they called the people by name but my heart ached because they saw these babies so often that they knew them by name.
Lastly, I encountered Tish, a pretty young woman, about 21-years-old by my estimation. She had come for dinner with a friend who lived across the street. Tish told me that she had been coming to this church for dinner since she was nine years old.  We talked politics.  She said she felt it was unfair that Mr. Trump was not being given a chance.  Apparently, she had heard a lot of negative opinions, especially that Trump would be bad for poor people.  However, she thought that those speaking did not know him; they could not know him because they had never met him.  I suspected that she had been detrimentally prejudged in her life.  For whatever reasons, she thought we should give him a chance. All people deserved a chance.  I offered her our 'side-by-side' pamphlet that outlines each presidential candidate's plans for our seven issues so that she could feel more informed as she pondered her vote.  She asked if she could keep it so that she could study it.  She was remarkably open.
It occurred to me that the people with whom I spoke knew how to live community well.   They looked out for one another; they shared resources; and they refrained from ugly judgement based upon ugly rhetoric.  This is why I see Jesus in our "Poor."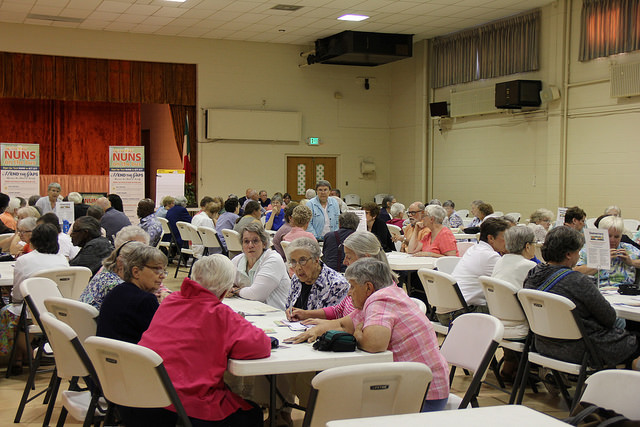 In the evening, we went to the caucus at St. Paul's Parish Center. We divided the tables into our gap issues. Every team reported out after good discussions regarding visions of a nation wherein the gaps had been mended.  It was remarkable in that so many folks were willing to envision such a nation. Other times, we have needed to guide folks so they would not detour into a litany of problems.  These Erie people had the hope of a mended gap society.  They all noted that, if gaps were mended, community would be warmer, less violent, and more productive.  They were willing to continue the conversations past tonight, too.
We were fortunate to experience two different sets of conversations in Erie tonight. It is my hope that someday the people having the conversations at Holy Trinity will intersect with those having conversation at St. Paul's.
See also:
Slideshow: Erie Caucus