NETWORK Allies with the We Serve with Love Campaign
In June, in celebration of Pride, NETWORK Lobby signed on as an ally of the We Serve with Love Campaign. This important campaign, led by the National Center for Lesbian Rights, aims to lift up faith-based direct service providers providing services to LGBTQ+ people and families. Additionally, this campaign educates faith-based providers on how to offer the most welcoming and safe services to LGBTQ+ people and increases understanding of the intersectionality of poverty and the discrimination people encounter because of their LGBTQ+ identities.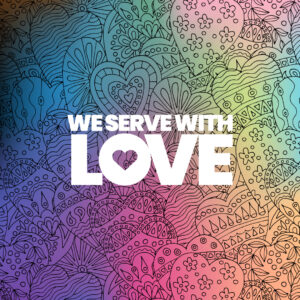 Speaking about NETWORK's support of this campaign, Chief Lobbyist Laura Peralta-Schulte, said "At NETWORK we advocate for federal policies that respect the dignity and ensure the economic security of all in the United States, no exceptions. Today, 1 in 5 members of the LGBTQ+ community live in poverty, more than double the national rate. No one should have to struggle to make ends meet because of who they are or who they love. Motivated by our faith, which calls us to love one another, NETWORK is proud to support the We Serve with Love campaign, shining a light on faith-based service providers that provide safe and inclusive support to members of the LGBTQ+ community."
We know that people of faith and the LGBTQ+ community are not, and should not be divided against one another. Many people of faith are members of the LGBTQ+ community – around 20% of LGBTQ+ people in the U.S. are Catholic. People of faith, and majorities of all voters, support laws that protect LGBTQ+ people from discrimination. Treating everyone, regardless of their identity, with dignity and respect is a universal value.
We are proud to celebrate the service providers who practice acceptance and love with everyone who needs their aid.