Build Anew Series — Part 9

Housing
Welcome back to our

Build Anew Series,

with weekly posts covering the people, policies, and values at the heart of the issues we work on. This week, we're talking about housing.

 

 
Part 9 – Housing (below) 
Part 10 – Looking Ahead (coming soon!)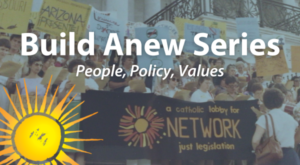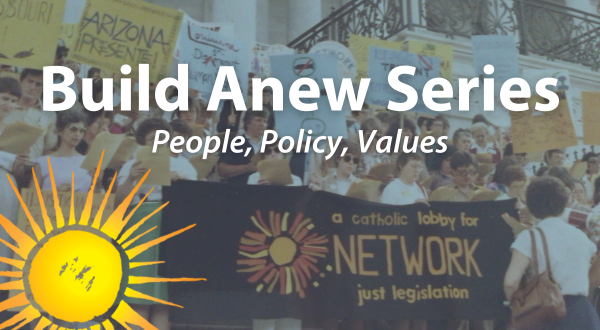 Everyone can agree that food, water, shelter, and health care are the most fundamental necessities of life. Yet, the United States, the wealthiest country in the world, is facing a long-term trend of increasing houselessness. From 2015-2022, the unsheltered population increased by 35 percent — which means an additional 60,560 people in this country are without shelter. In 2022, the numbers of unhoused persons (over 420,000) and chronically unhoused persons (nearly 128,000) reached record highs.
Leaving so many of our neighbors out on the street is a policy choice. A structural refusal to control rent prices and designate and maintain affordable housing is a moral issue. The housing crisis most affects the people already made vulnerable by unjust systems, including the elderly, children, Black and Brown communities, LGBTQ+ persons, Native Americans, and families in poverty. The COVID-19 pandemic only worsened these disparities.
We know that housing is an essential part of the wellbeing of ourselves and our families. Access to affordable housing creates stability and unlocks a greater ability to get and keep a job, to pursue education, to stay out of the criminal legal system, to tend to one's health, and to care for oneself and loved ones. We all deserve the basic security of a safe and stable place to live. This is why NETWORK supports a housing first model, and why we must engage federal policy to build anew our systems of ensuring housing security for all.
Present Realities
In our profit-driven housing market, millions of people experience housing insecurity every year. The largest problem renters and potential homeowners face today is a lack of affordable housing. In the United States, a record number of over 40 million renting and homeowning households are cost burdened, spending more than a third of their income on housing. When so much of a family's income must go towards housing, they have to cut back in other areas. Cost-burdened renters or homeowners may experience hunger, struggle to pay for transportation, find it harder to pursue educational or professional opportunities, and experience higher rates of eviction and foreclosure. Rising rents and housing costs are worsened by stagnant wages, the decreasing public housing stock, and the poor condition of remaining units. (Since the 1990s, the U.S. has destroyed almost a quarter-million public housing units, and replaced only a fraction.) Meanwhile, rent prices for new privately developed housing are unattainable for low-income families.
For people of color in the U.S.—especially for Black families—banks, the real estate industry, and local, state, and federal policies have enforced centuries of legal segregation and housing discrimination. Practices such as forcing Black families into higher-cost and lower-quality segregated housing (often in neighborhoods near toxic waste sites or highways with poor air quality), denying federally backed mortgages, and preventing the racial integration of white neighborhoods, have had devastating impacts on economic, education, community safety, and health outcomes. The legacies of redlining, environmental racism, and exclusionary zoning persists. Today, more than 50 years after the Civil Rights Movement won the passage of the Fair Housing Act, the gap between white and Black homeownership (which exacerbates the racial wealth gap) is even larger than it was in 1960 before the legislation went into effect.
Even before the COVID-19 pandemic, more than half a million people in the U.S. were experiencing houselessness, disproportionately in Black, AAPI, and Native American communities. With housing costs already stressing families' financial security, layoffs and other unexpected costs during the COVID-19 pandemic caused many to fall behind on rent and mortgage payments, leading to evictions and foreclosures where state or federal eviction moratoriums failed to protect vulnerable households. Before the national eviction moratorium went into effect (temporarily), the expiration of state eviction moratoriums in 27 states led to tens of thousands of additional COVID-19 cases and deaths.
Access to safe, affordable housing is absolutely critical for every person and supports our country's overall health. Housing creates stability that helps people pursue education, employment, and health, as well as eliminate contact with the criminal legal system, comply with the terms of their probation, and reduce their risk of recidivism. By failing to ensure housing for all members of our society, we harm family development and deprive millions of the stability of a secure shelter. Lack of housing is a matter of life or death, and one disproportionately faced by communities of color. This is immoral. We must respond to this urgent need and build anew with housing policies that dismantle systemic racism in housing and ensure equitable access to safe and affordable housing for all.
Facts and Figures on Housing in the U.S.
In 2021,

21.6 million households (49%) of renters were cost-burdened — an all-time high number

. Of those households, 11.6 million (over a quarter of all renters) spent more than half of their income on housing. Similarly,

19 million homeowners (22.7%) were "housing cost burdened,"

the highest levels since 2013. Of those homeowners, 8.7 million spent over half of their income on housing. Black, Latine, and Asian homeowners, as well as those over age 65, were most likely to be cost-burdened.
A

1987 United Church of Christ study

on toxic sites and race concluded that race was the most significant determining factor for living near commercial hazardous waste facilities.
Living in

poor-quality housing can lead to health and safety hazards

. Housing instability and food insecurity are

associated with decreased access to ambulatory care

and a greater need for acute care.
As of 2021,

1 in 6 renters are behind on their rent

due to job loss, furlough, or wage reductions. Renters of color in the U.S. disproportionately face this hardship. Households with children are consistently more likely to be behind on their rent.
Our Values
As we've been exploring throughout the Build Anew Series, Catholic Social Justice principles call us to uphold the dignity of each person as an equally valuable member of the global family. Because dignity refers to what people deserve by virtue of their humanity, upholding dignity means ensuring that each person has what they need to live well. Stable, affordable housing — a shelter, a home — is among the most basic of these necessities.
The pervasiveness of houselessness and housing insecurity stands in stark contradiction to the Catholic call to uphold the dignity of each person. The Vatican II encyclical Gaudium et spes reads, "All offenses against human dignity, such as subhuman living conditions… all these and the like are criminal: they poison civilization; and they debase the perpetrators more than the victims and militate against the honor of the creator." In other words, failing to ensure safe living conditions for all people is an offense against God!
Widespread houselessness is also where we see our social sin of racism and classism especially clearly. It is immoral that some people in this country have multiple houses, while so many have none. It is immoral that so many offices, hotel rooms, and other gathering spaces remain empty at night while our neighbors sleep out in the cold on the streets below. Whether or not you have shelter should not have anything to do with the color of your skin, or how much money is in your bank account. Yet, this is the reality in the U.S., an unconscionable affront to the equal dignity and worth of every single human being which our faith emphatically professes. We have an obligation to our siblings to redress this grave moral harm, as a matter of what it means to live a faith of justice, peace, and compassion.
We are all interconnected. When we all have the food, water, health care, and shelter that we deserve by virtue of our humanity, the whole community benefits. When we all have housing, our nation as a whole will be a healthier, safer, more stable, and more caring place to be for all of us.
When he visited a homeless shelter, Pope Francis asserted, "The home is a crucial place in life, where life grows and can be fulfilled, because it is a place in which every person learns to receive love and to give love." Housing is a basic human right and the foundation of a person's ability to meet their needs and care for themselves and their family. Each person deserves a stable shelter in which they can feel safe and at home. Together, we have the resources to make this a reality, and our faith calls us to do so.
Housing Justice and Federal Policy
Luckily, we know that good policy can significantly reduce houselessness. We saw this in the period from 2020-2022, when the rate of increasing houselessness slowed, due to strong (yet temporary) investments in human services programs during the pandemic.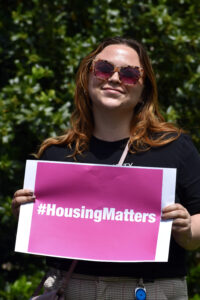 The federal government must take action to promote lasting housing stability for all people. Congress must expand vouchers and increase funding for Section 8 rental assistance (including tenant-based assistance and project-based rental assistance), as well as invest in public housing repairs and rehabilitation (which need more than $26 million in major capital repairs). Additionally, federal lawmakers should pass legislation to provide a renter's tax credit and expand the Low-Income Housing Tax Credit program.
In addition to ending houselessness and bolstering rental assistance programs, Congress must address the ongoing legacies of redlining, by investing in Black and Brown neighborhoods and creating sustainable pathways to homeownership for communities of color, who still face racial discrimination in housing and lending practices.
In rural America, homeownership is the principal form of housing. Yet, access to mortgage credit is limited, especially for Black households. Another challenge for rural households is clean water infrastructure. Hundreds of rural communities nationwide do not have access to clean residential drinking water and safe waste disposal systems. The government should support the fostering of sustainable, vibrant rural communities, including by increasing investment in Department of Agriculture housing grant and loan programs to ensure every rural household has the resources to repair, buy, or rent affordably.
Most urgently, as Congress appropriates funding for Housing and Urban Development (HUD), let your elected officials know that housing programs must be bolstered, not cut!
Join us again next week for our tenth and final installation of the Build Anew Series, looking ahead to 2024! And don't forget to stay tuned on Instagram (@network_lobby) and Facebook for our Build Anew video series!