Marge Clark, BVM
Dec 16, 2015
Blog: A Message from Sister Marge Clark about the Federal Budget
Dear NETWORK Members and Friends,
There is GREAT excitement today!
The Omnibus text, which details FY 2016 federal spending, was published just after midnight this morning and much to our relief and joy the proposed "Poison Pill" riders did not materialize. We worked with hundreds of organizations in a "No Riders" coalition that later transitioned to "No Poison Pill Riders," as the time of appropriators' decisions came near. This happened because we all recognized that there would be some riders in the budget – as negotiation points for both parties. We defined poison pill riders as policies that would damage the Consumer Financial Protection Bureau (CFPB), target immigrants and immigrant families, and hurt the environment, among other important issues.
With other members of the coalition, NETWORK participated in a fun activity last week to communicate our "No Poison Pills" message to House and Senate offices. We made a special delivery to each office: a pill vial with a warning label about the dangers of policy riders and a letter about the demands we were making – all accompanied by a "prescription" for not being harmed by the pills.
We also engaged with you, our NETWORK members and friends, on social media and with requests for calls and emails to House and Senate members over the last few weeks on this important issue. And I want to say congratulations to all of you! These efforts paid off!
Those most disconcerting riders are NOT included in the omnibus.  We have avoided the fear of riders on the budget that would curtail the Consumer Financial Protection Bureau by a demand for a change in structure and authority, ones that would create more barriers for our immigrants and refugee brothers and sisters, and ones that would significantly roll back environmental protections. Instead, we are able to focus on the primary work of this legislation: setting the funding levels for government agencies and programs in the coming year.
Thank you all for the great advocacy!!
With Gratitude,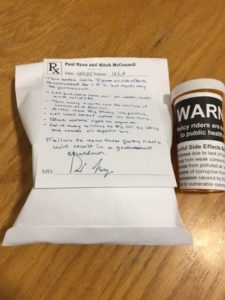 Sr. Marge Clark, BVM