Reflections on My Trip to the Border
First let me say that being on the border caused me to weep! Being present at the El Paso county courthouse across from the Federal Detention Facility and the Federal Courthouse in Texas painfully brought home to me how the Trump administration is using the law to inflict pain. As an attorney, it is very disturbing to experience law as oppression.
In El Paso a diverse delegation gathered for breakfast on the morning of June 26, 2018. The Associated Federation of Teachers (AFT) had convened their members, faith leaders, and members of other unions to witness to the trauma occurring to families on the border. I was honored to be in the midst of so many advocates (including Dolores Huerta, who told us she is 88 years old!) and concerned people.
Randi Weingarten, the President of AFT, was a wonderful hostess introducing all of us and helping us quickly build a community of shared purpose. She is trying to build the relationships of Unions with the faith community. Her wife, Rabbi Sharon Kleinbaum, was one of the major faith voices. Sharon is the senior rabbi of a synagogue in NYC. Together, they have been working on this shared activism.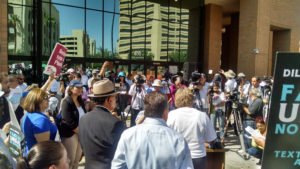 After breakfast and a bit of organizing, we drove in vans down to the County Courthouse which is across the street from the Federal Courthouse and the Federal Detention Facility. With a dozen cameras and various reporters we spoke out about the anguish of family separation and family detention. There were Texan Legislators, county officials, union representatives and faith leaders. But what got me in the extreme heat was the anguish in the block. At one point I had to walk away and weep for our nation and for our people.
I wasn't scheduled to speak at the Courthouse, but Randi decided that we needed a faith voice there. I was honored that she called on me. My brief message was to acknowledge that I had had to walk away from the press conference to weep for our nation. But that my message for us was from Micah. What does God ask of us? "Act justly, love tenderly and walk humbly." Our nation is failing this mandate. We are failing to act justly. We as a nation are not loving. Our leadership is not walking humbly. We must repent and change our course of action.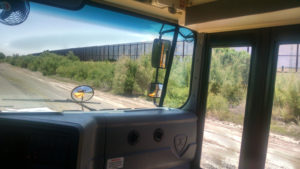 After an hour of public witness we boarded yellow school buses. These school buses were provided by the leadership of the local school district so that about 150 of us could go to Tornillo Children's Detention Facility. We headed off with press cameras rolling.
Tornillo is a border crossing spot about 55 miles outside of El Paso. On the way we saw the border wall that is prominent on the landscape. Tornillo is a small agricultural village where there is high levels of arsenic in the water and no sewage treatment plant, sidewalks, street lights. There the border crossing includes a child detention facility.
We held our prayer vigil outside the gates of the border crossing/detention facility. My message there was from Pope Francis' exhortation on holiness. There he calls on us to stand in the shoes of our immigrant brothers and sisters "who risk their lives to offer a future to their children. Can we not realize that this is exactly what Jesus demands of us?" I spoke directly to Speaker Ryan to pay heed to Pope Francis' teaching.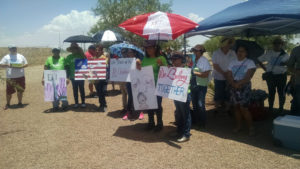 After an hour-long vigil in the very hot sun, we attempted to deliver toys and books to the children at the facility. As expected, we were turned away without accomplishing our goal. But, our contribution will go to Annunciation House in El Paso. We heard that they had just received 32 parents released by ICE but still disconnected from their children. Most had not even talked to their children since they had been separated. But the expectation (dare I say hope or plan) is that the children will be reunited with them there.
We left the border and headed to the airport for the long journey home. Delayed planes only stretched out the time for reflection and absorbing the experience, the pain and the worry for our nation. I was grateful to have gone in this mixed delegation. It was doubly painful that the Muslim ban decision came out while we were at the Courthouse. But how good to stand together.
While this trip made me weep for our nation, it also caused me to think of what Walter Brueggemann says is the source of prophetic imagination. He calls us to touch the pain of the world as real…and in the process we will release an active experience of hope. So in the midst of the pain of the world that makes me weep, I pray that we might be a community strong enough to sustain each other. In that very process we together become the active hope…I pray to the Lord.