Build Anew: A Justice Agenda for All of Us
Last week, during NETWORK's January 2021 Legislative Webinar, Government Relations Associate Gina Kelley introduced NETWORK's new policy agenda, the Build Anew Agenda.
The Build Anew Agenda is a response to NETWORK's direct encounters with people and families as well as the direction of the country overall over the past several years. Year in and year out, we've seen how our society in the United States has been deliberately organized to benefit white people over people of color. This structural advantage occurs at all levels: the political, social, and individual.
The growing economic disparity and increasing individualism that results from maintaining our current racial hierarchy and economic inequality must end. As the COVID-19 pandemic has shown, we are all connected to one another and our health, wellbeing, and lives depend on one another.
The Build Anew Agenda is our pathway forward to realizing our vision of a just and inclusive society.
Four cornerstones, based on the principles of Catholic Social Justice are the foundation for building our country anew in 2021 and beyond.
Cornerstones to Build Our Country Anew
Dismantle Systemic Racism
Cultivate Inclusive Community
Root Our Economy in Solidarity
Transform Our Politics
In meeting and listening to people and families across the country – engaging in what Pope Francis calls "a culture of encounter" – we at NETWORK have come to know that we must find a way to realize our vision of a just and inclusive society where all can thrive. This includes especially those most often left out: women, people of color, people on the economic margins, and those at the intersections of these identities.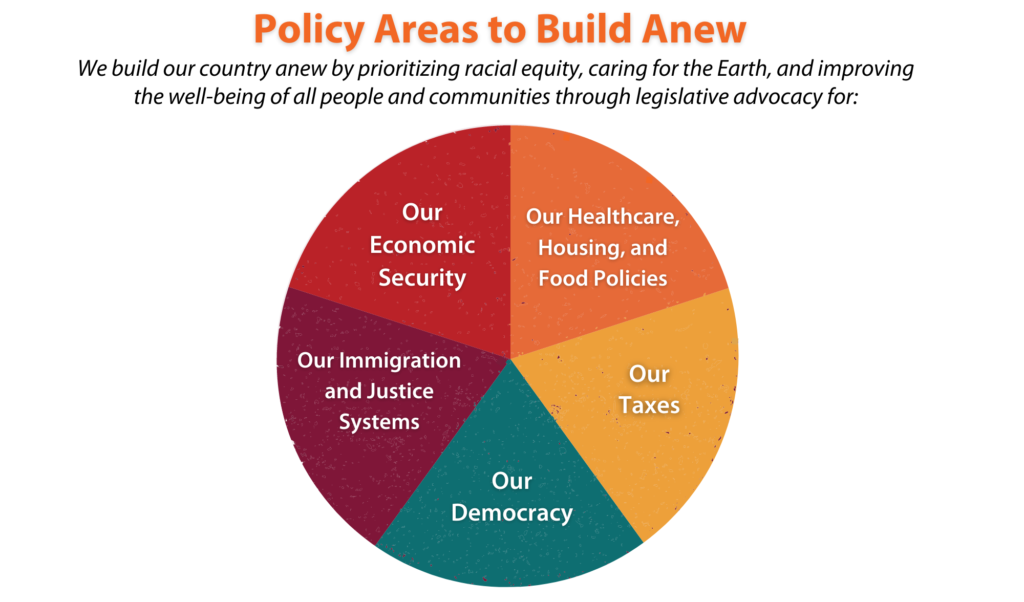 Despite our divisions, we proclaim the truth that all people in the United States, together, make up one single community. Pope Francis says, "Hope would have us recognize that there is always a way out, that we can always redirect our steps, that we can always do something to solve our problems."
I invite you to join in the work of supporting NETWORK's Build Anew Agenda by advocating for federal policies that dismantle systemic racism, eliminate the wealth and income gap, improve the well-being of our communities, and allow all people to thrive. We must build anew across sectors, and across divides, to address injustice and disparities in our country