White Christians Need To Recognize the Ingrained Racism That Keeps Them From Seeing God in Everyone
Spirited Sisters
When confronted with racist or nativist violence or policies, many white Americans respond with the assertion "This is not who we are!" Others claim that calling out white supremacy is an indictment of the very foundation of the United States. And this second group is actually right, though not in the way they intend. White supremacy is indeed the foundation of our nation, and it continues to show up in the attitudes of people as well as the policies and structures on which our society is built.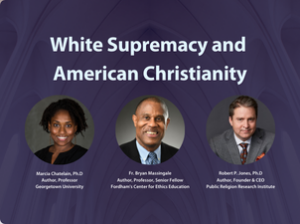 "White supremacy is the non-rational, instinctual, visceral conviction that this country – its public spaces, its political institutions, its cultural heritage – that these belong to white people in a way that they do not and should not belong to others," says Father Bryan Massingale of Fordham University. NETWORK's April 9 conversation with Father Massingale, Dr. Robert P. Jones, and Dr. Marcia Chatelain laid bare that this is precisely who we are – and especially who white American Christians are.
Faced with the stark data from Jones' research as founder and CEO of the Public Religion Research Institute (PRRI), that just sitting in the pews (in a white congregation) increases your chances of holding racist views, what are Christians – and especially white Christians – to do? According to Jones, "The biggest problem is that white people think they have nothing at stake in this conversation."
In other words, racism harms all of us. As an organizer, I talk about self-interest regularly, because self-interest can be a fruitful place for people to work together for a shared good. And in this case, that shared good is economic opportunity and a basic standard of living. My grandparents got it as beneficiaries of the GI Bill. Their wealth paid for much of my college (with significant tax benefits that are not granted to those who have to take out student loans).
But as soon as public goods started to open up to people of color, elite white people rebelled and began convincing poor and middle-class white people to choose their racial interests over their class interests – to ensure that Black people didn't get access to public goods – and in doing so, to prevent themselves from accessing those same public goods. We need a multi-racial coalition to overturn that and build an economy that works for everyone and not just the ultra-wealthy elite. We can't do that if we continue as we have been.
But this coalition has hurdles to overcome as, in the words of Father Massingale, "The Gospel of white supremacy is the functional religion of many white Christians and many white Catholics." Which is to say, "white identity is the primary source of their locus, their commitment, their loyalty."
This kind of truth-telling is critical if we want to move to real racial reconciliation. Conversion requires knowing we are wrong and acting to make amends. As St. Paul tells the Romans, "We've been buried with Jesus." To be buried with Jesus is to be buried with the brown-skinned Jew in occupied Palestine. But we must be buried with Christ if we have any hope of being "alive to Christ." We must embrace the death of white supremacy and act to bring about the death of white supremacy so that we can be alive to Beloved Community.
Dr. Marcia Chatelain of Georgetown University asked us if we could imagine a church that was seriously willing to give up power "in order to show that another world is possible." Father Massingale asked us if we could imagine Jesus in Black and Brown bodies.
Imagination is a spiritual practice, especially when we want to imagine something that doesn't yet exist. But the kin-dom of God doesn't yet exist in its entirety, so we must imagine it. We must create and use images of Christ in Black and Brown bodies. Because if we only see God as a white man, then our subconscious will continue to tell us that only white men should be able to rule here "on earth as it is in heaven."
All of this calls us to act. So what will you do this week?
Name it here: _________________________________
Now go do it.