Travel Log: Cedar Rapids Day 2
Sister Jan Cebula, OSF
October 17, 2018
As we pulled up for the morning rally outside Representative Rod Blum's office (IA-01), we were greeted by a cardboard, life-size cutout of Rep. Blum. After repeated requests for appointments to speak with him or for him to hold town hall meetings to no avail, his constituents began bringing this cutout to their gatherings.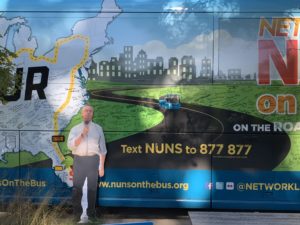 Sister Robbie Pentecost, an Oldenburg (IN) Franciscan Sister who ministers in Appalachia, greeted the crowd and told them we're on the road working for tax justice for the common good. Then, Cedar Rapids resident, and former NETWORK executive director, Sister Kathy Thornton, RSM spoke. Sister Kathy is also a former Nun on the Bus. She emphasized the hardships and struggle of people in Iowa, particularly obtaining adequate mental health services, affordable healthcare and other vital services. Having requested an appointment for Nuns on the Bus (more than once) to meet with Rep. Blum or his staff without  a response, she wondered aloud how he can represent Iowans without meeting or talking with them. How does he know of their struggles and concerns?
That is a growing frustration of people we've met along the way. "They won't talk to their employers (their constituents)," as one woman lamented at last night's town hall.
Recognizing her privileged position as a white woman with a Master's Degree and a processional job with good health insurance, Nadia Gillitzer told us how she has to stretch her insulin and supplies from paycheck to paycheck. With insurance her medication costs $200 every month. Without, it would be $1000. "Just to keep her alive," she noted.
After the rally, Sister Simone, Sister Kathy, Nadia and several others of us from the Bus went to the Congressman's office. Five or six constituents spontaneously accompanied us. After buzzing in, an aide came to the door and let us in the entry way. The communications director joined her. We were not invited to come in to the office area and sit down. Sister Simone delivered a packet of information about how Iowans are being affected by the tax legislation that rewards the wealthy while making it harder on people in the lower quintiles economic brackets. Sister Kathy made it clear that she never received a response to her requests for an appointment. The constituents were clearly frustrated by repeated attempts to get meaningful responses to their questions from their representative and let it be known.
As we roll on, Kathy's question echoes in my mind. How do elected officials represent their people when they isolate themselves from them, particularly from those impacted the most by policies they enact?
View more photos from this event here.