Sister Janet Kinney, CSJ
October 23, 2018
Today was another early day for the nine sisters and NETWORK staff who are traveling on the Bus this week.  Each day begins with contemplative prayer in Simone's room, where the sisters sit in quiet and listen to the stirrings within our hearts, recalling the people we met the prior day. After a period of extended quiet, we lift their intentions, mingled with our own and then one by one, share the fruits of our contemplation.  Part of the program the prior evening was an illustrative example acted out by the sisters of how the tax cuts impact real people. One sister shared in this morning's prayer about a conversation with a woman who came up to her afterwards and said, "I am the Nicky you spoke about.  I live in HUD housing and I am so fearful that if cuts are made to the social net programs I use and need, I will lose my apartment."  As the sister gazed into her face she saw a middle age woman of pallid complexion, simply dressed who was doing the best she can, day by day, yet living on the edge and carrying all the uncertainty that this stark reality brings to her life.
We ended our prayer, gathered our suitcases and stepped onto the bus, fortified by our faith, called to be bearers of hope to those we will meet each day. Leaving Seneca Falls a little after 8 am, our first two stops were lobby visits with Representative Tenney (New Hartford) and Representative Faso's (Kingston) offices.  Sister Betsy shared these experiences in her blog for that day.
As evening dusk began to fall, we arrived in Morristown, New Jersey.  Our hosts were the parishioners of Church of the Redeemer.  We were greeted warmly by Reverend Cynthia Black, and introduced to Mayor Tim Dougherty.  We shared a meal with the parishioners in the parish hall, where we were told that they serve over 70,000 meals to individuals and families in need in their community. Rev. Black shared that their church was founded by the Abolitionists; they are also a "Green Faith sanctuary."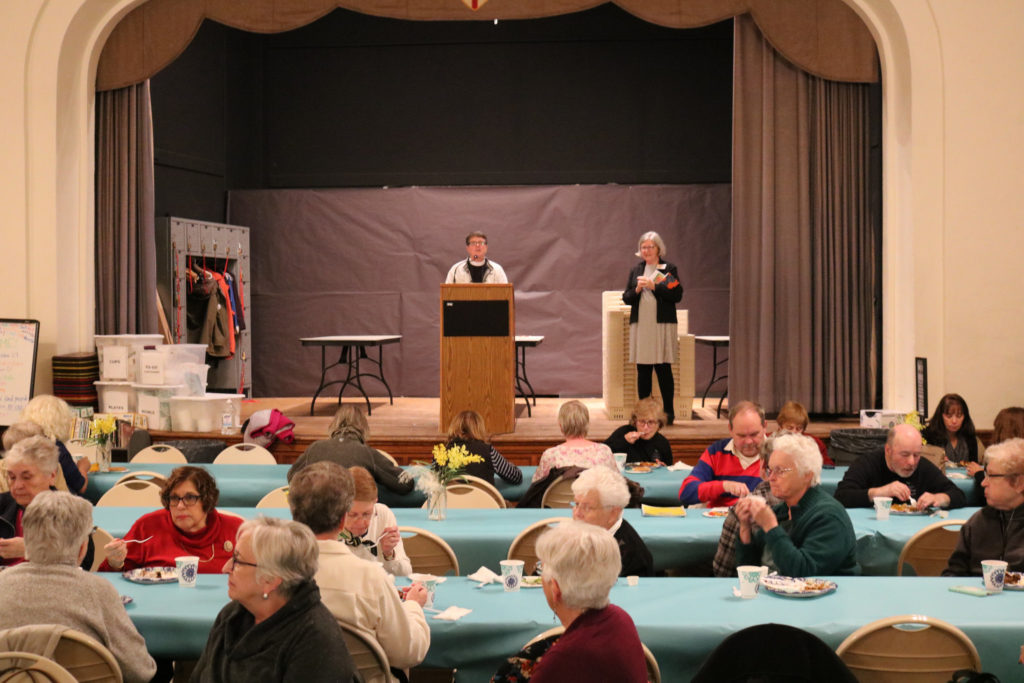 After dinner, we moved to the church for the program.
Simone gaves a brief introduction to the trip, but the real purpose of this evening's program was a live podcast interview with Jesuitical, which is sponsored by America Magazine. Zac Davis and Ashley McKinless from America moderated the conversation with Sr. Simone and Sr. Richelle Friedman, another "Nun on the Bus." Sr. Simone and Sr. Richelle shared moving stories from the road trip, and explained why the Republican tax plan is so devastating to over 60% of the country's population, encouraging all to get out the vote for the midterms.   After the podcast concluded, all gathered were invited to sign pledge cards and move outside to sign the bus. It was a beautiful moonlit night – Rev. Black "signed the bus" with a Church of the Redeemer bumper sticker with this slogan: "supporting the separation of church and hate since 1852."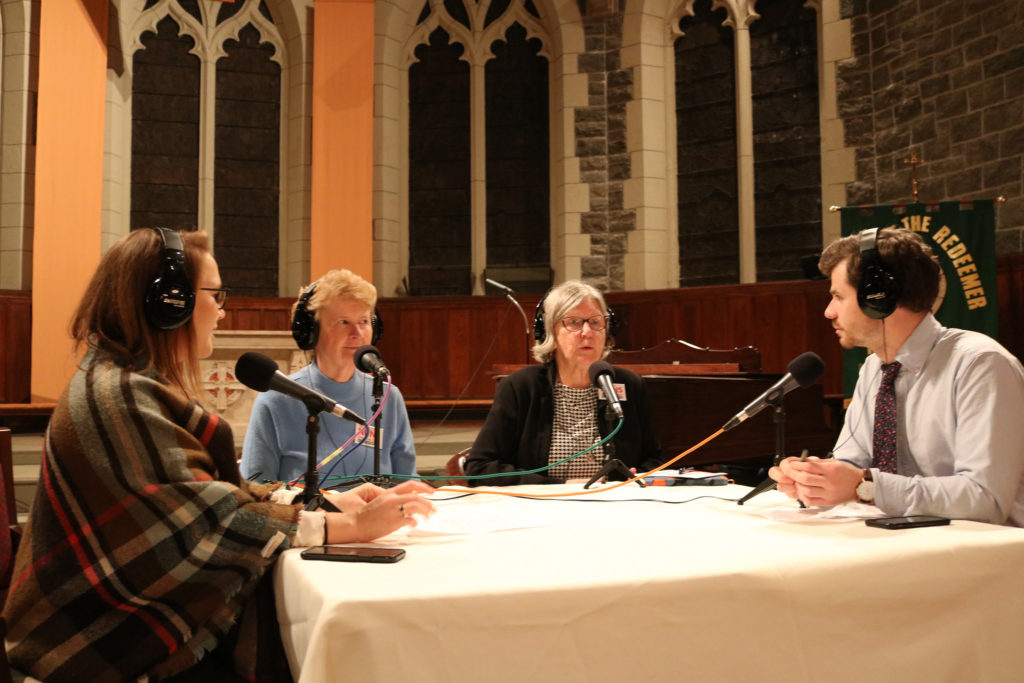 Clearly, all that we heard and experienced from these parishioners embodied these words.
After the podcast, all participants moved outside to sign the bus. We were provided hospitality by the Filipini sisters at their Filipini Villa Walsh, a 100 + acre campus which includes an all-girls academy, grades 7-12. Sister Ascenza and Sister Alice greeted us and after showing us our rooms, we gathered briefly to give gratitude for the people we have met and the graces we have received.
I am humbled by these experiences, and enriched by the desire of so many good people in this country who truly want to be a caring community for others, in contrast to the negative rhetoric and policies that are being implemented by the current administration.  This trip is all about bringing hope to those who are discouraged by all that they are seeing happening in our country.  I am richly blessed for these days shared with my sisters and those we have met on the road to Mar-a-Lago.
View more photos from this event here.