For Immediate Release: May 24, 2022
Contact: Audrey Carroll, acarroll@networklobby.org, 202-601-7875<
Local Faith Leaders and West Virginia Parents Hold Press Conference for Child Tax Credit
2,300+ Catholic Sisters, Ministers, and West Virginia Parents Sign Letter to Senator Manchin
CHARLESTON, WEST VIRGINIA – Today, faith leaders and advocates gathered for a press conference to call on Senator Joe Manchin to make the expanded Child Tax Credit permanent. The event, "West Virginians Love Their Neighbor: Faith Leaders Call for Expanded Child Tax Credit," highlighted the urgent need of expanding the credit to keep 50,000 West Virginian children from falling into poverty.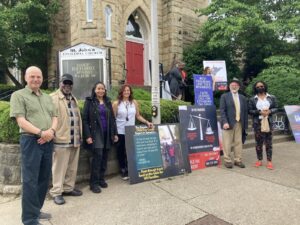 During the press conference, Kris Olsen, West Virginia Parent, said:
"When I got my first Child Tax Credit payment in July of last year, the amount of relief I felt is difficult to describe…My Senator said I couldn't be trusted to spend that $300 on my family — West Virginia families are begging for relief. We will not sit here and be blamed for your lack of action…Joe Manchin, this is your opportunity to show us that this isn't true, that you do have faith in us and believe in our children."
Leslye Colvin, Policy Advocate, National Advocacy Center of the Sisters of the Good Shepherd, said:
"There are times when our government has to act. The Child Tax Credit is one way our government, our legislators, can act so that children can be taken care of as they deserve…The expanded Child Tax Credit is a proven tool that lifts children out of poverty, reduces food insecurity, and allows families to weather economic uncertainties."
Rev. Jeff Allen, Executive Director of the West Virginia Council of Churches, said:
"The families who are beaten down to the point where they are selling their blood to make ends meet, are we neighbors to them? Every generation has the opportunity to move the country forward…We have proven we can change the lives of children in our country for the better…If we have the knowledge and the means to help our nation's children, should we not do it? Do we not have a moral obligation to help those in need?"
Additionally, a letter signed by over 2,300 people of faith across the country – including more than 1,100 Catholic Sisters — was delivered to Senator Manchin and all Members of Congress. The letter urges Congress to make the expanded Child Tax Credit permanent, ensuring that all families have full accessibility. The letter illustrates nation-wide support for the expanded Child Tax Credit, declaring, "No child should suffer the stress, pain, and uncertainty of poverty, which has lifelong consequences."
Read the full text of the letter to Congress here.
###
NETWORK – advocates for justice inspired by Catholic sisters – educates, organizes, and lobbies for economic and social transformation. They have a 50-year track record of lobbying for critical federal programs that support those at the margins and prioritize the common good. www.networklobby.org