In Young Activists, NETWORK Sees What Pope Francis Sees
On his 2015 trip to Bolivia, Pope Francis addressed social activists gathered there for the second World Meeting of Popular Movements. He told them that "popular movements play an essential role, not only by making demands and lodging protests, but even more basically by being creative. You are social poets: creators of work, builders of housing, producers of food, above all for people left behind by the world market."
The following year, addressing these same groups gathered in Rome, he added that the popular movements "are sowers of change, promoters of a process involving millions of actions, great and small, creatively intertwined like words in a poem." In his 2021 address to the same gathering, he began simply, "Dear social poets."
Pope Francis' messages to the Popular Movements have included some of the most striking rhetoric of his pontificate, decrying demagogues who exploit people's anger and fear to demonize immigrants and other people pushed to the margins of society. In 2021, he said that protests following the murder of George Floyd most reminded him of the Good Samaritan in the world today.
NETWORK joins Pope Francis in centering the importance of young activists in the work of writing a better future for the world, one that dismantles systemic racism, roots the economy in solidarity, cultivates inclusive community, and transforms politics. So for NETWORK's 50th anniversary, we honor four young activists as "Social Poets." The four inaugural recipients of this award write with their lives the challenges and transformative potential that the decades ahead hold for those pursuing justice in the name of the Gospel.
Taylor McGee | Catholic Social Poet
A faith-based justice-seeker studying at St. Edward's University in Austin, Taylor McGee has a gift for convening people from different backgrounds in faith contexts and using the encounter to open up old or familiar ideas about God and the world in new ways. As a faith and culture leader for St. Edward's campus ministry, McGee, 20, has led an Earth Day event featuring discussion of Pope Francis' Laudato Si'; a fish fry that invited local Black-owned businesses to campus and featured Black gospel music; and — her favorite — a virtual art exhibit, "Mirroring Mary," which curated images of Mary from the various cultures represented on the St. Edward's campus.
"I've been so blessed to have a great community given to me and understanding the similarities and differences within that community," says McGee, adding, "If this is a community that I'm trying to serve, then I need to be in that community." A Black woman and a cradle Catholic who has had to step back to see the eurocentrism of her own experience of church, she has majored in religious studies because, in part, "As a Black woman, you have to have that credibility."
She credits Pope Francis for being explicit in his naming of problems in society, since working around problems without naming them leaves room for people to mute them. "I'm still in the South, and I know how things are," she notes. But still she sees "Do everything in love" as what it is to be a social poet. This means "to be explicit in love and to not condemn and to not condemn people for their unlearning," which can be challenging in activist spaces. But God invites everyone.
Ivonne Ramirez | Catholic Social Poet
Ivonne Ramirez uses educ
ation and advocacy in her efforts to change the hearts and minds of fellow Catholics regarding the plight of DACA recipients like herself living in the Archdiocese of St. Louis. "If you are a devout Catholic, you should be with us, not against us," Ramirez, 27, says of the need for the Church to be in solidarity with immigrants, especially young people who do not have documented status in the U.S. "These are your neighbors. … We need to teach people what is DACA and what it looks like in our parish."
Ramirez is a catechist at Our Lady of Guadalupe, a predominantly Spanish speaking low to moderate income parish in Ferguson, Missouri, and also chaperones teen events and is a frequent speaker at parish teen retreats. Her mentor and role model is Sr. Cathy Doherty, SSND. "We're starting a movement. We're slowing and surely starting to see,"
Ramirez says of her efforts to educate priests and other church leaders to address immigration with their communities. This includes a recent meeting of several DACA recipients with St. Louis Archbishop Mitchell Rozanski to share their stories.
As DACA recipients can't vote, she especially wants to communicate to people that they have power to help their neighbors and that who they elect matters. Ramirez also says the popular term for DACA recipients – "Dreamers" – is a misnomer. "We're not dreaming. We're actually working for something," she says.
Marie Kenyon, director of peace and justice for the archdiocese, agrees: "Ivonne is a breath of hope to Hispanic youth in the parish, especially those without permanent legal status. Over the years she has found her voice in expressing and witnessing immigration issues to the church and the region. Her energy, creativity and ways of expressing her faith are just what is needed in our church today. … She is a true servant leader!"
Christian Soenen | Catholic Social Poet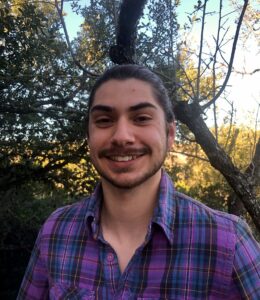 Christian Soenen has learned the weight of what it means to accompany people on their immigration journey, most recently as an education and advocacy intern at the Kino Border Institute in Nogales, Arizona. "You think that you understand the kinds of things that people are going through," says Soenen, 23. "I thought I knew what was going on, and then I got to the border. I personally felt very disarmed. … You get very invested in the present, in the people who are suffering presently."
A graduate of University of Texas at Austin who has engaged in immigration advocacy since high school, Soenen's experiences at the border confronted him with the crushing impact of a broken system. During his time at Kino, Sr. Tracey Horan, SP, served as a collaborator and guide. "He demonstrates a sincere humility in his awareness both of what he has to offer the movement toward dignified migration and that his efforts are part of something bigger that is beyond him. I have been particularly impressed by his growth in identifying and empowering migrant leadership," Horan says of Soenen.
"The moment you step away [from the border] it is so easy to forget the weight of that," Soenen says of the end of his time with Kino. "I don't think we can allow ourselves to forget." The border experience has shown him how many dehumanizing structures people acquiesce to on a daily basis, and he adds, "I don't know how you break out that."
Despite the hopelessness of the circumstances, Soenen does see the Gospel alive in the struggles of migrant people and those who serve them. "Liberation is the fundamental focus of everything that is prophetic and Gospel," he says. And the life and death of Jesus shows where God identifies: "We have had the ultimate symbolic example, and we're still waiting for the world to realize what that means."
Jennifer Koo | Catholic Social Poet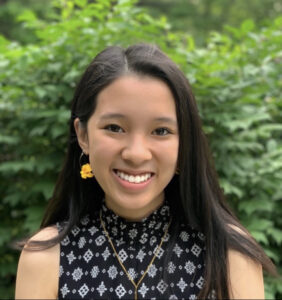 Jennifer Koo first learned about Jesus when she was 17, in a high school history class. Now the only Christian in her multi-faith family of Southeast Asian immigrants, Koo, 24, says her newfound faith "offered me some hope and comfort in trying to grapple with all the inequity and brokenness that I was seeing all around me."
Koo grapples with human brokenness all the time through her work for RESULTS, an anti-poverty advocacy organization, which she serves from Connecticut. As Koo discovered grassroots advocacy as a young adult, she also discovered a vocabulary to describe the oppression she'd experienced growing up, which "reminded me that I'm not alone in this journey towards justice."
But while she's not alone, she recognizes that the journey is different for people of color, people with disabilities, and others. "The stakes of the work that we are involved in, it's not the same for everyone," she notes. "This work can be incredibly exhausting and painful and tiring, and it can be very exhausting to feel as though you are being tokenized in a movement."
One of Koo's numerous endeavors has been to create self-care resources for activists. "I take this approach of seeing the people inside the advocate. We are not advocacy tools. We are people with our own lives," she says. Upon learning that she is one of four Social Poets honored by NETWORK, Koo's first response was to learn about the organization, which led her to being "overjoyed to see that this kind of space exists."
This includes NETWORK's commitment to growing as a multicultural, anti-racist organization that prioritizes looking at the person within the advocate. She also appreciates NETWORK giving her "help to contribute in making waves in this movement." Each Social Poet is receiving $500 and will participate in the Advocates Training as part of NETWORK's 50th anniversary celebration.
Don Clemmons is NETWORK's content and editorial manager. This article originally appeared in Connection, NETWORK's quarterly magazine (Second Quarter 2022 – "Celebrating Sister-Spirit: Our 50-Year Justice Journey"  *Special 50th Anniversary Edition*).