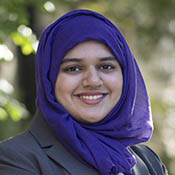 Government Relations Associate
Sana is one of our Government Relations Associates. At NETWORK, her work revolves around building coalitions with interfaith organizers and lobbying for federal policies which advance social justice. Sana graduated in 2017 from Loyola University Chicago with honors in Political Science and a minor in Peace studies. She also worked as a research fellow for Sheriff Tom Dart in Cook County for a year.
Where she find inspiration for work:
• Her religion and her family
What she loves outside of NETWORK:
• Reading the news
• Going for walks
• Attending meetups
• Hanging out with the other associates!
Originally from: Chicago, IL