Thank You for Writing a Letter to President Biden for Reparations
NETWORK Justice-seekers recently came together to fill President Biden's mailbox at the White House with requests for a reparations commission. Specifically, for an executive order for a federal reparations commission to study reparations like the one proposed in H.R.40. Below, Jarrett Smith, NETWORK's Government Relations Advocate who lobbies on behalf of reparatory justice issues, offers appreciation for this faith-filled advocacy.
Our Values Root Our Call for Reparations
All of us want the freedom to live where we want and to have the resources we need to care for the people we love. For too long, law makers in D.C., state politicians, and businesses, have created inequity in home ownership, the job market, safe police tactics, and more — harming Black economic progress. Some blame and shame Black people for the negative outcomes that flow from this inequitable treatment.
But we know that this is wrong. By divine right and according to our Constitution, all of us are to live free, equitable, and thriving lives. To do this, we must reckon with the original sin of slavery–as it is at the root of racist policy, abuse, and violence that we see in our politics, churches, and economy today. The time is now for a federal reparations study commission.
Thank you for your Spirit-filled photos
Thank you, your words mattered!
Beloved Field,
Thank you for participating in the President's Day Letter Writing Campaign to the White House. Y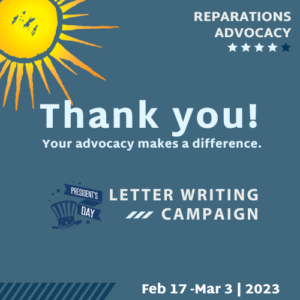 our advocacy for reparations is appreciated — especially at this moment when the creation of an H.R.40-style reparations commission is up against a tight deadline. The Network team and I are  honored that you significantly bolstered our efforts to mobilize the Biden Administration to sign an executive order to create an H.R.40-style reparations commission.
Many justice-seekers shared selfies and candid photos featuring letters, mailboxes, and post offices. It was wonderful to see your Spirit-filled posts on social media and in our NETWORK email inbox. I am delighted to share the images here.
Your actions during Black History Month came shortly after Representative Shelia Jackson Lee (D-TX) reintroduced H.R.40 in January 2023 in the 118th Congress. This year marks 34 years since Representative John Conyers (D-MI) first introduced the bill. Mr. Conyers and several advocates, like the National Coalition of Blacks for Reparations in America, based the proposal on the President Reagan-signed legislation that gave Japanese interned during World War II reparations from the United States Federal Government.
Since last year, NETWORK Lobby has co-sponsored and led numerous direct actions for a reparations commission. We believe that this work is sacred. The Reconstruction effort of 1865-1877 gave our country an opportunity to find a path to equality, however, politics were chosen over humanity. White supremacy defeated repair. While redress is long-overdue, H.R.40 offers another opportunity to finally begin to repair our country's original sin.
I would be remiss if I didn't thank you for praying for reparations during Black History Month, Together as well as sending letters to President Biden. Your prayers are still needed! I kindly suggest re-watching Faith in Reparations to guide your prayers and reflections. This fantastic  event featured Jewish, Protestant, and Catholic faith leaders — and the presentation of a Sister Letter signed by Women Religious — calling for President to implement a federal reparations commission.
I'm thrilled with what we've accomplished together, and I know we will do so much more!
In solidarity,
Jarrett
Join the Campaign!
Let us know you will send a letter to President Biden.