Exorbitant Drug Pricing: A Moral Issue
If the popular immunosuppressant Humira was a standalone company, it would be twice as big as the Hilton hotel chain and its sales would rival Southwest Airlines and Visa. How is this one drug so profitable? After rebates, the average price of the drug is $3,000 a month. The company that sells it, AbbVie, has made 115 billion in profit off the drug since 2010, and more than half of those profits come from the U.S.
Insulin, a drug whose patent was created almost a century ago, is skyrocketing in price. Diabetics around the country are forced to choose between rationing life-saving medication, falling behind on rent and car payments, or going without food. The original developers of these drugs wanted their scientific innovation to serve the public good—so what gives?
In the status quo, there's no incentive to sell drugs at a reasonable rate. Pharmaceutical companies can claim that in order to recoup the costs of research and development, they must have exclusive access to the market for their specific drug. While they have market exclusivity, the drug company is then able to gouge the price of their drug. There is no competitor to incentivize lower costs. There's also no government scrutiny as to why the price is what it is. We don't know why certain pharmaceutical drugs are priced the way they are. Therefore, we have no control if those prices start rising exponentially, and patients have no way of affording the only drug available to cure their condition.
What is one supposed to do if they have breast cancer, Hepatitis C, or multiple sclerosis and can't afford their drugs? We use public dollars to fund research to prevent this exact problem. Public research money contributed to the 210 new drugs approved from 2010-2016, to the tune of $100 billion dollars. Unfortunately, drug makers have taken advantage of the public's investment in research to strengthen their bottom line.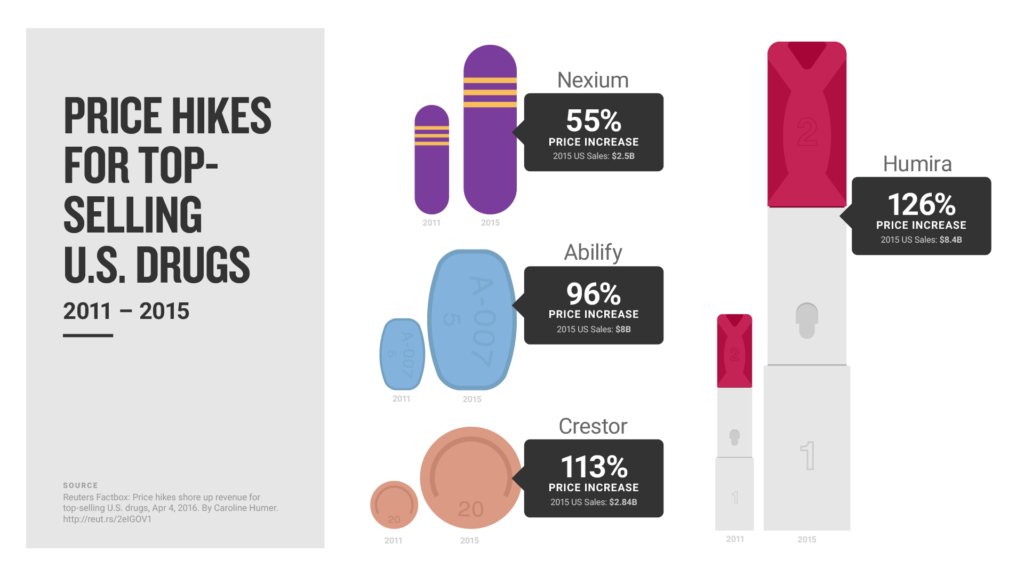 These practices are an insidious betrayal of public trust and morally wrong. In the richest country in the world, people lose their lives because they can't afford their medicine. It's also peculiar that in a so-called free market, we allow monopolists to fully control markets without consequence. The pharmaceutical industry has gamed every rule set in place for them. It is past time for them to face the consequences for the system they have engineered.
Many members of Congress shy away from drug pricing reforms, citing its complicated nature. Others believe the current injustices are based off a few bad actors, not a whole industry that puts profit over human lives. We can't just point to the most shocking examples of price gouging that make headlines—we have to examine the system that encouraged drug companies to price hike in the first place.
For far too long, the pharmaceutical industry has profited off a public too intimidated to scrutinize their business practices. By directing our attention to examples like "pharma bro" Martin Shkreli, the industry is absolved of any accountability for how they price drugs. This isn't a case of a few bad actors. This is a system that thrives on taking advantage of the vulnerability and desperation of patients in need of life-saving drugs.
The details of drug pricing reform are complex, but don't let the pharmaceutical industry bamboozle us into thinking reform is unattainable. To give just one example, every other country in the world allows price negotiations. In the United States, the Department of Veteran's Affairs negotiates drug prices for their patients. When put together, the proposals coming out of Congress are reasonable reforms. They allow Medicare to use its bargaining power to negotiate prices for its patients, penalize drug corporations that spike the price of a drug without justification, and prohibit abusive tactics used to delay a drug going generic.
There is bipartisan support for doing something about the cost of prescription drugs. This is not an issue we can put off. Every day we refuse to engage and take action, another person risks their life to go without medicine they need to survive. A new poll reveals that 3 out of 10 adults report not taking their medicines as prescribed at some point in the past year because of the cost. Diabetics are risking their lives and rationing their insulin—in fact, 1 out of 4 diabetics admit to doing so.
During our 2018 Nuns on the Bus Tour, we encountered the deadly consequences of this issue. In Savannah, we heard the story of Niema Ross, a young working mother of three who had died that weekend because she couldn't afford the inhaler she needed to breathe. Niema's final post on Facebook was a photo of her empty inhaler captioned with a message asking if anyone had access to more. The community tried to raise money for her medication, but it came too late. Niema was never able to get her inhaler, and now her three children will grow up without a mother.
The drug industry's success in putting profit over people over profit is perhaps one of the most blatant moral issues of our time, and Congress has the power to do something about it. Let's remind our representatives that now is the time to be morally courageous and end the absurdity that is our prescription drug industry.
***
Graphic courtesy of Voices for Affordable Health.