Breaking the Silence on Violence Against Women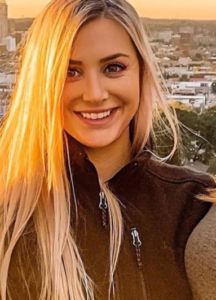 Thanksgiving is a joyous holiday for many people across the nation; an opportunity to see their loved ones and celebrate together under one roof. For Alabamians, Thanksgiving is just the precursor to the most important weekend of the year: the Iron Bowl. Every Saturday after Thanksgiving, Alabama and Auburn's football teams play on the field, and the entire state shuts down. Most people either celebrate after their team wins, or they go to bed upset that their team lost bragging rights for an entire year.
Unfortunately for Megan Montgomery, this day would be her last. Megan was taken from a sports bar by her ex-husband and abuser, James McIntosh. Hours later, her body was found in the dumpster behind my high school, only 100 yards away from the home where I'd just celebrated the holiday with my family. She'd been shot multiple times.
For so many women across the country, this story sounds all too familiar. In Alabama, it seems this story is on a continual loop. This horrifying reality has brought the increased instances of violence against women to light in the media. Soon this story will be all but forgotten, leaving only the family and friends of Megan to remember her life that was cut short by her abuser.
This case is just another reminder of how our federal policies around domestic violence do not adequately care for and protect the lives of women. Congress has refused to act on the rising rates of violence against women and children due to the 'untouchable' issue of gun control. Therefore, women continue to die in senseless acts of violence and at the hands of their abusers, simply because the politics are too controversial to act.
Earlier this year, the House of Representatives took action and passed H.R. 1585, the Violence Against Women Reauthorization Act. Under this legislation, spouses and family members convicted of domestic abuse are prohibited from purchasing guns, and the legislation would close the "boyfriend loophole" extending the prohibition of buying arms for convicted abusers to former dating partners, not just spouses. The bill will promote and fund trauma-informed training for law enforcement, and expand resources for preventing domestic violence on tribal land. The bill also includes nondiscrimination provisions based on race and sexual orientation, which is impactful because people of color and those in the LGBTQ+ community are much more likely to be abused than their white, straight counterparts.
This necessary and life-saving bill passed the House of Representatives in April of 2019, but the Senate has taken its time considering the bill. Much of the blame falls on Senate Majority Leader, Senator Mitch McConnell, who refuses to let any Democrat-sponsored legislation reach the Senate floor. Also, Iowa Senator Joni Ernst has been outspoken against the gun restrictions of the bill, causing it to be stalled even further. Although the Violence Against Women Act has historically been bipartisan, Senate Republicans are blocking the legislation due to politics.
While I'm sure Senators McConnell and Ernst know a lot more about politics than I do, there is one thing I'm sure of: Megan Montgomery would still be alive today if they had passed the Violence Against Women Reauthorization Act. Her abuser would not have been able to get his hands on a gun due to his past domestic assault convictions, and Megan could have spent her weekend with her friends and family like the rest of us.
Time is up Senators, enough lives have been lost. It is time to put the lives of domestic violence victims before your partisan politics. Pass the Violence Against Women Reauthorization Act now and end the violence that so many experience at the hands of their abusers.