Voting Under the Sign of the Cross
Putting Our Focus on the Margins
Meghan J. Clark
August 13, 2020
In the wake of the murders of George Floyd, Ahmaud Arbery, and Breonna Taylor, our communities powerfully cry out for racial justice. The global COVID-19 pandemic remains, it has not dissipated, despite growing public fatigue with mitigation measures. Amidst all of this, we struggle to maintain voting rights in primaries and in preparation for November. NETWORK and its partners have tirelessly worked on issues of racial and economic justice for decades. The issues are not new, unknown, or unstudied; and yet, something about 2020 feels different.  The collective albeit deeply unequal experience of COVID-19's vulnerability, suffering, and death has inescapably interrupted our business as usual attitude.
Today there is a growing chorus of people demanding a more just and equitable community. A chorus that rejects returning to a business as usual that benefits only the privileged while excluding millions. At marches in Rockaway, Queens, youth leaders pair a focus on racial justice alongside voter registration and census participation. Alongside chants of "Black lives matter!" you also hear, "Don't just hope, get out and VOTE!"
Participation in the political, social, and economic life of the community is both our right and our responsibility. While not everyone is called to be an activist, all are called to actively work for the common good. Voting, in Catholic social teaching, is a moral obligation. Yet, as Christians, we are called to vote not motivated by own self-interest but by a commitment to the human dignity of all, an all-inclusive common good, and with a preferential option for the poor and vulnerable. Faithful discipleship, then, becomes a matter of solidarity and kinship in which all are equally sacred. In faithful citizenship, we are called to vote under the sign of the cross.
Beginning with the Crucified
In his first homily as pope, Francis prayed that we, as the people of God, may receive the grace to "to walk, to build, to profess Jesus Christ crucified." In focusing our journey on Christ crucified, Francis draws individuals out of themselves and towards the margins of society. The task is two-fold: to focus our attention on those excluded from our societies while also recognizing the structures by which they are rendered invisible or expendable. Beginning with the crucified Christ illustrates the ways both individual dignity and structures of sin are inextricably linked.  When Francis labels inequality as the root of all social ills in his apostolic exhortation Evangelii Gaudium (EG), it is in recognition that it is "making it practically impossible to live a human life ruled by moral principles."
Building on both Catholic social teaching and the prophetic insights of liberation theology, Pope Francis's decries, "Human beings are themselves considered consumer goods to be used and then discarded. We have created a "throw away" culture which is now spreading.…those excluded are no longer society's underside or its fringes or its disenfranchised – they are no longer even a part of it." (EG 53).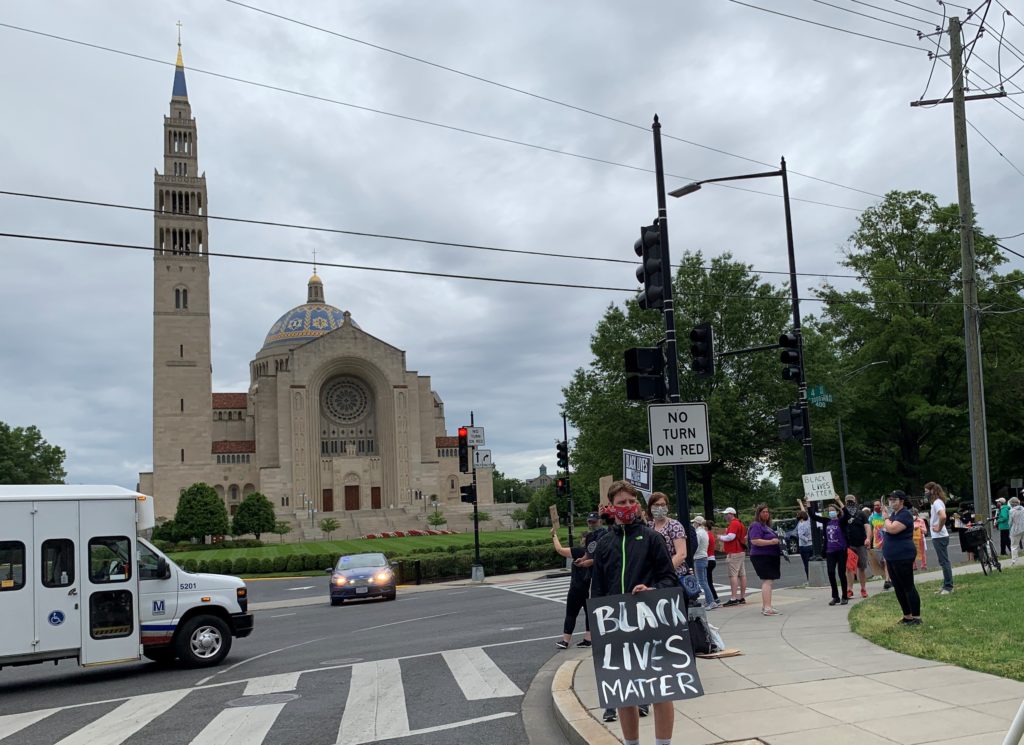 Voting under the sign of the cross, then, asks us to begin our discernment from the perspective of the excluded, of those who suffer from institutionalized violence, those whom the martyred El Salvadoran Jesuit Ignacio Ellacuria called the crucified peoples. For Ellacuria, the cross focuses our attention on the "collective reality, grounding and making possible individual sins."1 Talking about the reality of individual sin is not enough. Seeing the reality of our society's crucified peoples requires those with privilege to face the uncomfortable and unavoidable complicity in social sin, of which in the United States, racism and white supremacy are paramount.
Nowhere is this clearer than in the call for racial justice in our country today. Professing Christ crucified, in all its historical complexity, has long been central in African American Christian ethics, most notably the work of Protestant theologian James Cone, who famously described the crucifixion as a first-century lynching.2 Reflecting on the current protests, Nigerian-American Sister Anne Arabome laments that God cannot breathe; "As the protests continue, I see people on the streets — breathing in and breathing out. In their voices I hear the God of life screaming and asking for space to breathe again."3
Living Incarnational Solidarity
"A faith that does not draw us into solidarity is a faith which is dead, it is deceitful…faith without solidarity is a faith without Christ."4 These provocative words, spoken by Francis on a pastoral visit in Paraguay, challenge us to see that solidarity and work for justice are at the very heart of the Christian faith. For Christians, Jesus is our model of solidarity and it is in practicing solidarity that we encounter Christ in our neighbor.
In the Gospels, both the Beatitudes and Matthew 25's parable of the last judgement provide clear descriptive illustrations of the connection between solidarity with Jesus and solidarity with those on the margins, culminating in an uncompromising statement that whatsoever one does or does not do for the least, one does or does not do to the Son of Man himself. A radical identification of Jesus not with his followers but with those who are hungry, thirsty, imprisoned, etc.  Visual artists like Kelly Latimore powerfully concretize this for us depicting the Holy Family as migrants crossing a militarized border.5
"Solidarity is a wrenching task," notes theologian M. Shawn Copeland, "to stand up for justice in the midst of injustice; to take up simplicity in the midst of affluence and comfort; to embrace integrity in the midst of collusion and co-optation; to contest the gravitational pull of domination."6 Incarnational solidarity is deeply rooted in seeing one's neighbor as the image and likeness of God, as the face of Christ in our midst. For Francis, "Solidarity must be lived as the decision to restore to the poor what belongs to them" (EG 189), a difficult task because "complacency is seductive" (Gaudete et Exsultate 137). In practice, this solidarity strengthens efforts to practice good politics, in which "everyone can contribute his or her stone to help build the common home."7
A Community of Kinship and Justice
Both the image of the crucified peoples and the focus of incarnational solidarity ask us to reflect deeply on how we view the work around us and possibly change the position from which we participate in the political community. For Christians, the task of politics is to build a community of kinship, and justice. It is the recognition that we belong to each other and that we are all diminished by the exclusion and oppression of some. In his many books and TedTalks, Fr. Greg Boyle, SJ of Homeboy Industries challenges us to imagine a circle of kinship and then imagine it is big enough where no one is on the others side.8 For Boyle, Jesus does not provide us with easy answers but relentlessly asks, "Where are you standing?" The shift is at once a severe challenge but also freeing.
The fundamental starting point is where do you position yourself? With the marginalized and against marginalization? With the oppressed against their oppression? These seem like easy questions and yet for those like myself, a white woman in the United States, answering them honestly requires facing the ways in which my life has been aided by the white supremacy I recognize as sinful and evil. It requires humility in acknowledging one's own complicity in systems of injustice, followed by a firm and persevering commitment to be anti-racist.
The Challenge of Radical Kinship and Politics
At this point, you may be thinking voting under the sign of the cross is impossible in U.S. politics. While it is true that Catholics who hold with the Church a consistent ethic of human dignity do not neatly fit into the U.S. political system, I wish to make two caveats before delving into the practical reflections on the type of political engagement envisioned above.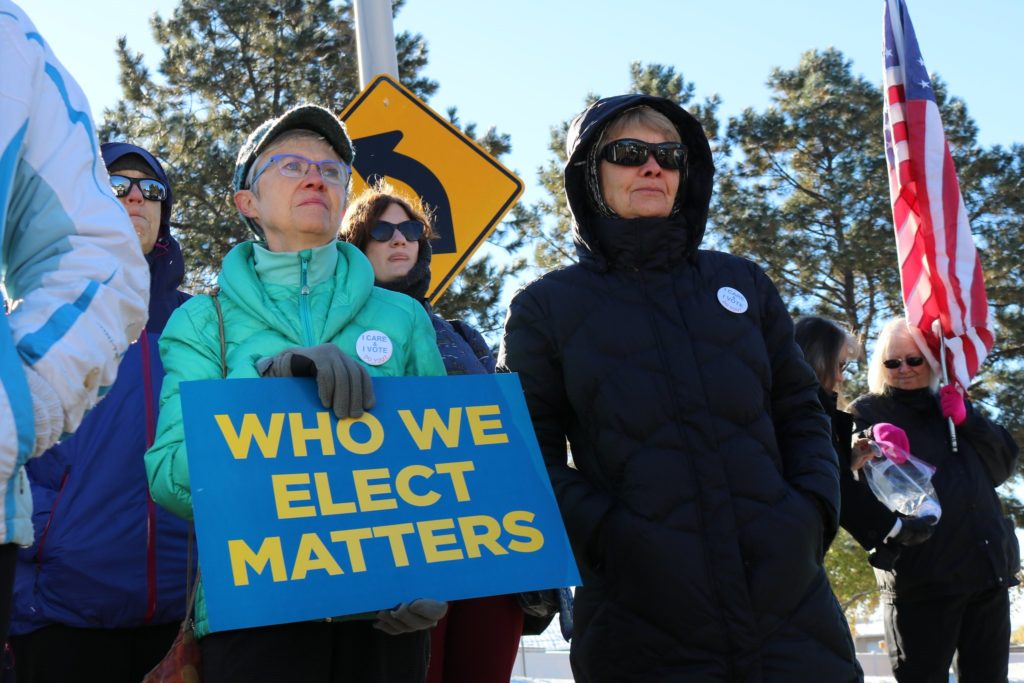 First, voting is always a bounded choice. There are no perfect candidates or political platforms. One advantage of Catholic social tradition's approach to social ethics is that it recognizes the reality of both individual and structural sin. Our political engagement is aimed at bringing about greater justice and peace but recognizes that the fullness of either relies on God. By letting go of purity and perfection, we are freed to act for justice. This recognition, alongside a realistic appreciation of pluralism, also helps us act with humility, recognizing with Pope Francis that "growth in holiness is a journey in community, side by side with others" (GE 141).
Navigating voting and political participation amidst these complexities is a challenge. It requires practicing: see (learning about candidates' records), judge (discern), act (vote/advocate). Whenever Catholics explore the meaning of "the preferential option for the poor" the list includes: the unborn, migrants, those living in poverty, the elderly, victims of human trafficking, etc. For many in the United States today, the challenge is most acutely felt in navigating their position on abortion alongside their solidarity with marginalized and minoritized peoples.
Personally, I find Pope Francis's approach helpful for discernment. Cautioning against ideologies within the church which either avoid talking about God or avoid social justice, he states, "our defense of the unborn, for example, needs to be clear, firm, and passionate…equally sacred, however, are the lives of the poor, those already born, the destitute, the abandoned, and the underprivileged, the vulnerable infirm and elderly exposed to covert euthanasia, the victims of human trafficking. . . we cannot uphold an ideal of holiness that would ignore injustice" (GE 101). There is a unity and integrity to this image of "equally sacred" that is rooted in prioritizing those whose dignity is thrown away.
Equally sacred is not a capitulation or deflection. It does not deny the specific reality of injustice, the way "all lives matter" dismisses the need to specify Black lives matter. Instead it is a desire to be faithful to the Gospel, to standing with the crucified.  "A fundamental tragedy of this broken and sinful world," notes theologian Cathy Kaveny, "is that the most vulnerable persons – the unborn, the disabled, the needy are often completely dependent upon persons almost as vulnerable as themselves."9 The first step, according to Kaveny, is to listen and hear their voices. In U.S. politics, concern about abortion is often reduced to the question of criminal law. However, if we follow Jesus to the margins, it is difficult to treat any single issue as the only one of concern. Similarly, if we follow Kaveny alongside Boyle's vision of kinship, it asks us to consider our policies on abortion from both the perspective of the unborn and the pregnant woman in crisis. In doing so, the nexus of concern expands far beyond mere criminalization of abortion.
Throughout his ministry, Pope Francis has implored us to pray with the Gospel, reject the throwaway culture, and be in kinship with the marginalized. When we do that, our understanding of building a pro-life community of solidarity must be a circle in which no one is left out. We position ourselves with Black Lives Matter,10 with migrants of all ages, and with those experiencing poverty and struggling to meet their basic needs.
As we head into election season, voting is one important way that we participate in the political life of our communities. It is an act of solemn discernment and conscience. In 2020, in the midst of a global pandemic, desperate cries for racial justice, and increasing economic need, it feels as if the stakes are quite high, and they are. Still, as people of faith, we begin by making sure we are standing in the right place as we discern, our focus on promoting the common good and building a community of solidarity in which none are excluded.
_____________________________________________________________________________
Meghan J. Clark, Ph.D., is an associate professor of moral theology at St John's University (NY). She is a senior fellow of St. John's Vincentian Center for Church and Society. From 2010-2013, she served as a Consultant to the United States Conference of Catholic Bishops Committee on Domestic Justice and Human Development. She is author of The Vision of Catholic Social Thought: the Virtue of Solidarity and the Praxis of Human Rights (Fortress Press, 2014) and co-editor of Public Theology and the Global Common Good (Orbis, 2106).
Sources:
Ignacio Ellacuria, "The Crucified Peoples," in Ignacio Ellacuria: Essays on History, Liberation, and Salvation, Edited by Michael E. Lee, (Maryknoll, NY: Orbis, 2013), p. 204.
James H. Cone, The Cross and the Lynching Tree. (Maryknoll, N.Y.: Orbis Books, 2011).
Anne Arabome, "I can't breathe because God can't breathe," National Catholic Reporter, June 10, 2020 https://www.ncronline.org/news/opinion/i-cant-breathe-because-god-cant-breathe
Pope Francis, "Visit to the People of Bañado Norte" (Address, Paraguay, July 12, 2015) https://w2.vatican.va/content/francesco/en/speeches/2015/july/documents/papa-francesco_20150712_paraguay-banado-norte.html
Kelly Latimore, "Refugees: La Sagrada Familia" https://kellylatimoreicons.com/gallery/img_2361/
Shawn Copeland, "Towards a Critical Christian Feminist Theology of Solidarity," in Women and Theology, ed. Mary Ann Hinsdale and Phyllis H. Kaminski (Maryknoll, NY: Orbis, 1995), 18.
Pope Francis, "Good Politics is at the service of Peace," World Day of Peace Message 2019.
Gregory Boyle, SJ, "Compassion and Kinship," TEDxConejo 2012 https://www.youtube.com/watch?v=ipR0kWt1Fkc
Cathleen Kaveny, "Could the Church take a risk?" Commonweal Magazine, August 10, 2018.
Olga Segura, "What Black Lives Matter Can Teach Catholics About Racial Justice" https://www.americamagazine.org/politics-society/2019/02/01/what-black-lives-matter-can-teach-catholics-about-racial-justice
This story was originally published in the Third Quarter 2020 issue of Connection magazine. Read the full issue.