Nuns on the Bus 2020:
The Virtual Tour
Pope Francis says "A good Catholic meddles in politics" and we will continue to do so — virtually! NETWORK's Nuns on the Bus is going "back on the road" this year with virtual live events and an online interactive experience!
In September and October 2020, NETWORK is "hitting the road" – virtually. This year's Nuns on the Bus tour will raise the most pressing issues in our nation, elevate the lived experiences of those facing the greatest challenges, and prepare participants to vote for the common good on Election Day. During the tour, events will include Rallies, Town Halls for Spirit-Filled Voters, Site Visits, and Dialogue Across Geographic Divides. We look forward to seeing you there!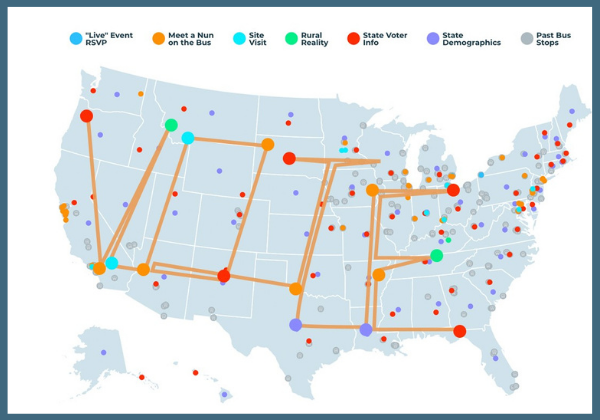 You have a ticket to ride this year's Nun on the Bus! Explore the stops on the map to learn the importance of being a Multi-Issue Voter and why Who We Elect Matters. Complete your own journey by visiting 30 or more stops to receive a special thank you gift. Begin your Nuns on the Bus Trip!
Pick out your own merchandise and apparel from our 2020 campaigns: Nuns on the Bus, Who We Elect Matters, and Pope Francis Voter.  Help us spread the word about being a multi-issue voter and show the world that you support the sisters! All products are union-made and proceeds go to supporting our 2020 election work. Take a look at merchandise and apparel.
Who We Elect Matters
In 2020, We The People face consequential decisions about how to respond to a global health crisis as well as racism and white supremacy, xenophobia, and economic inequality in our nation. These are difficult times, but there are reasons for hope. Across the United States, people are speaking out for justice and advocating for policies to mend the gaps in our society. And, with a federal election coming up, we know that who we elect, at every level of government, matters.
– Download the "Equally Sacred" Scorecard.
– Download NETWORK's 2020 Mend the Gaps Policy Platform.
Sign our Multi-Issue Voter Pledge here.