Safeguard American Democracy: Oppose the American Confidence in Elections Act and Support the Freedom to Vote Act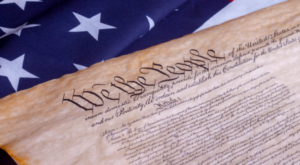 Our country is divided on how to best safeguard American Democracy and the freedom to vote. Some favor continued progress towards a more inclusive democracy with expanded voting protections that benefit all citizens of voting age. Such proponents are in conflict with others who prefer restricted voting laws that make it more difficult for voters to cast a ballot, and whose policies tend to benefit wealthy corporations and individuals. NETWORK Lobby's Build Anew policy agenda guides our work to forge a multifaith, multi-racial democracy where we all thrive. Paramount to this transformative change is unfettered access to voting. We ask all justice-seekers to join our efforts to safeguard American Democracy and oppose H.R. 4563—the American Confidence in Elections Act and support the Freedom to Vote Act.
While we thank God that the Supreme Court's holding in Allen v. Milligan protected voting in Alabama's Black and Brown communities by striking down gerrymandered congressional districts – and the voting power of these communities across the nation, political extremism is still a major threat to our democracy. In 2023, legislators in at least 11 states passed 13 restrictive voting bills. These restrictive voting measures were the result of concerted efforts by dark money special interests and self-serving politicians. Money was funneled to influence policymakers' decisions to alter voting laws to make it harder for communities of color to vote. Instead of ensuring fair and equal representation promised in our Constitution, Republicans in states across the country have drawn partisan gerrymandered district maps designed to keep political parties and dark money special interests in power.
The prophet Isaiah's judgement of the rulers and leaders of Jerusalem during their time of seeming prosperity is especially poignant. "They say that what is right is wrong and what is wrong is right; that black is white and white is black; bitter is sweet and sweet is bitter" (Is. 5:20). Sacred reflection is prologue to the contradictory nature of two election related bills recently introduced in the House — the Republican-crafted American Confidence in Elections (ACE) Act (H.R.4563) and the Freedom to Vote Act (FTVA) (H.R.11) — which has bipartisan backing.
The ACE Act (H.R.4563) would:
Limit the choices that voters have when registering to vote
Repeal President Biden's Executive Order instructing federal agencies to encourage voter registration
Restrict the ability of voters to cast a ballot by mail
Create strict photo ID requirements
Reinforce partisan gerrymandering
Enhance the power of wealthy special interests by increasing contribution limits and maintaining the avenues for anonymous, or dark money, donations
The Act would also restrict private funding of the administration of elections, even as Congressional Republicans refuse to adequately fund the administration of federal elections. And, Washington, D.C. voters are singled out by the legislation as District voters would become guinea pigs for the states, with the establishment of a series of repressive restrictions, including dramatic reductions in drop box access for voters and onerous new voter ID and mail-in voting rules.
Conversely, FTVA (H.R.11), introduced by Rep. John Sarbanes (MD-03) in the House on July 17, 2023, is a transformational pro-voter, anti-corruption bill that is complementary to the John R. Lewis Voting Rights Advancement Act. Passage of this bill would be a vital step forward to live into Build Anew's mission.
The FTVA (H.R.11) would protect the integrity of elections, simplify voter registration, and expand access to the polls. It would:
Protect local election officers and poll workers from harassment and intimidation
Limit gerrymandering
Shine light on "dark money" flooding into campaign advertising
Untraceable funds allow wealthy individuals and corporations to exert undue influence over the political process and erode the democratic ideal of equal representation. The FTVA (H.R.11) would not allow money to effectively drown out the voices of everyday citizens it would enhance the aspirational principle of "we the people" from the Preamble to our Constitution.
The Catholic faith requires that we on honor human dignity. The rise of dark money and undisclosed corporate donations, coupled with restrictive voting measures, casts a shadow on the integrity of our democratic process, and results in diminished dignity for those left out of the process. We are called to recognize and respect the inherent worth and dignity of every human being, no exceptions!
Voting is not only a civic duty but also a means of upholding the dignity of every person, and allowing them to have a voice in shaping their communities, and the larger society. We must actively working towards the elimination of discrimination, prejudice, and systemic racism in all its forms, especially in our elections. NETWORK strongly opposes the House Republican American Confidence in Elections Act The ACE Act, H.R.4563) and calls for the swift passage of the Freedom to Vote Act (FTVA H.R.11).