Partner Blog: Losing Our Mothers in the Black Maternal Health Crisis
Alaina Ruffin
September 11, 2023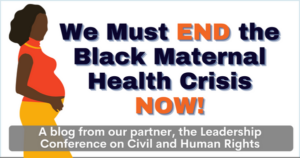 More than four months have passed since the sudden death of track and field champion Tori Bowie after prematurely going into labor. This weekend would have been her 33rd birthday and also marks Women's Equality Day, which recognizes the 103rd anniversary of the passage of the 19th Amendment. While women's rights have certainly advanced since then, inequities against historically vulnerable communities persist — including within the medical field. For the ongoing health crisis faced by Black birthing people, every day poses a new risk of health complications or even death.
Earlier this year, the Centers for Disease Control and Prevention (CDC) reported that the maternal mortality rate for Black women in 2021 was 69.9 deaths per 100,000 live births, nearly tripling the rate compared to white women. Regardless of education, income, or social status, this striking disparity is experienced by Black birthing people of all backgrounds. Tori Bowie, Serena Williams, and Keisha Knight Pulliam are just a few of the Black women who have experienced the effects of this devastating crisis, and there are countless others. The disproportionate number of Black people affected, as compared to other communities, is exactly what makes this a crisis — and these continued deaths loom as a stark reminder of medical racism's continued effects on Black birthing people and the state of our health care system overall.
The Black maternal health crisis has a long and gruesome history in the United States. From rampant sexual assault and violence, including rape and forced sterilization, to issues like over-criminalization and over policing negatively impacting maternal health, implicit bias permeates the medical realm — and Black birthing people often bear the heaviest burdens. As described by the Women's Leadership and Resource Center at the University of Illinois Chicago, many social, political, and economic conditions affect Black birthing people's reproductive lives — including systemic issues like poverty, substance abuse, and mental illness — and ultimately interfere with their rights both to have and to not have children.
According to the CDC's largest, most recent data compilation, 84 percent of pregnancy-related deaths were deemed to be preventable. This statistic is even more alarming when considering how often health care professionals neglect to take a Black patient's pain or medical concerns seriously. In fact, the United Nations announced in a report this past July that the United States has the starkest disparity in maternal mortality rates between Black women and white women. While the report examined nine countries across North and South America, one of its main takeaways was that Black birthing people are systematically neglected and mistreated across the countries studied, which ultimately causes pregnancy complications and delayed interventions — often leading to death. These findings ultimately reinforce how medical racism and misogynoir have very real, harmful impacts on Black birthing people not just in our nation, but across the globe.
Unfortunately, disproportionate maternal mortality rates aren't the only threats to Black maternal health. In the wake of Roe v. Wade being overturned last year, moves from states to restrict or outright ban abortion have already had dangerous impacts on Black birthing people. For instance, forced pregnancies in states where abortion is illegal or inaccessible place a heavy strain on historically vulnerable communities — including Black, Latina, and low-income people — that ultimately jeopardizes their physical, emotional, and financial well-being. For Black birthing people who already face barriers to reproductive and gynecological services, the inaccessibility of potentially lifesaving resources poses another threat. That's why our coalition continues to advocate for passage of the Women's Health Protection Act, legislation that seeks to counter state-level abortion bans and restrictions.
Legislators in recent years have worked to protect the rights and health of Black birthing people and propose policy solutions for the crisis. Rep. Lauren Underwood's 2021 Momnibus Act, a package of legislation aimed to address the maternal health crisis from an inter-agency approach, is one of the current proposals to confront virtually every dimension of the issue. In 2019, Rep. Underwood founded the Black Maternal Health Caucus with Rep. Alma Adams. Before becoming the youngest Black woman to ever serve in Congress, Underwood worked as a registered nurse and previously worked at the Department of Health and Human Services. The Momnibus Act was reintroduced this year by Underwood and Sen. Cory Booker and aims to reduce health disparities in medicine — and also in the workforce and in our nation's carceral systems.
A number of organizations, including some of The Leadership Conference's coalition partners, are working to address and ameliorate the crisis. The National Partnership for Women & Families, for example, has worked on an array of maternal health equity initiatives — including recently releasing a roadmap dedicated to improving maternal health outcomes and compiling resources. Another is In Our Own Voice, an organization specifically dedicated to achieving reproductive justice for Black women and improving Black maternal health through policy solutions. Various other coalition partners have dedicated themselves to advancing a vision of economic justice that will lead to better health and economic outcomes, including advocating for passage of the Pregnant Workers Fairness Act, permanent expansion of the Child Tax Credit, and other policies designed to provide holistic support to families.
In addition, The Leadership Conference Education Fund's data equity work helps to ensure that we are able to collect data disaggregated by race and ethnicity so that we can identify these and other inequities and work to remedy them.
As we remember Tori Bowie and honor her life on what would have been her 33rd birthday, we must continue to combat the Black maternal health crisis by protecting Black birthing people and creating policies that eliminate outdated medical misinformation and build safer, healthier, and more supportive environments for birthing people — especially those from historically vulnerable communities — to live and thrive.
This blog appears courtesy of The Leadership Conference on Civil and Human Rights where the author, Alaina Ruffin, was a summer 2023 undergraduate intern.