Christians Should Honor Dr. King With United Witness on Voting Rights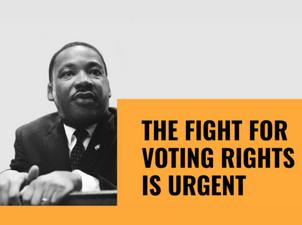 With Rev. Dr. Martin Luther King Jr.'s son calling for "No celebration without legislation," the milestone of Dr. Martin Luther King Jr. Day resonates differently this year. Never in recent memory have voting rights been so hotly at the center of our country's policy debate. The Senate has a historic opportunity to restore our democracy and protect our right to vote by passing the Freedom to Vote Act, and the John Lewis Voting Rights Advancement Act, which have now been combined into one bill, H.R.5746. We need immediate action to protect our democracy.
In his 1957 speech "Give Us the Ballot," Rev. Dr. Martin Luther King, Jr. called the denial of the sacred right to vote "a tragic betrayal of the highest mandates of our democratic tradition." With the passage of 34 laws restricting access to voting in 19 states across the country last year, this tragic betrayal is becoming a reality.
In the Senate, the filibuster has been used to block popular bills to stop lynching, end poll taxes, and fight workplace discrimination. The weaponization of the filibuster is racism cloaked in procedure. Now, this Jim Crow-relic is being used to block crucial voting rights protections. Today, Dr. King's family is joining with faith leaders, civil rights leaders, and voting rights advocates to call on the Senate to end the filibuster and deliver on legislation that protects the right to vote.
This is a crucial moment for people of faith to come together around this issue, and it couldn't be more apt. January 18-25 is the Week of Prayer for Christian Unity, an annual observance among Christians who want to see their collective witness in the world live up to the prayer of Jesus in John's Gospel, "that they all may be one" (John 17:21). For over a century, this has primarily taken the form of theologians gathering to dialogue about issues that divide one church denomination from another — and in many cases finding commonalities and ways to bridge these divides.
But equally important is the pursuit Christian unity through what some call a "dialogue of service," a shared witness to build up the common good. The commitment to upholding human dignity through the right to vote – and, , the election of leaders who will enact policies that build up the common good as Dr. King rightly pointed out – is something that should draw Christians across denominational lines very close together. Indeed, simply collaborating with my coworkers at NETWORK finds me, a United Methodist, working alongside a Catholic Sister and Presbyterian organizer to push Congress to protect the right to vote.
Now is the time to pass the H.R. 5746, the Freedom to Vote: John R. Lewis Act, a transformative piece of legislation that sets national standards to increase access to the ballot box, neutralizes partisan and racial gerrymandering, protects our elections from interference, increases transparency in campaign finance to prevent dark money from buying our politicians, and more. Unfortunately, this bill is at risk of being blocked by the filibuster. These anti-democratic efforts cannot be allowed to sabotage passage of robust voting rights legislation.