East Lansing Catholic Network Connects and Learns in Flint
Janice Hudson
May 23, 2018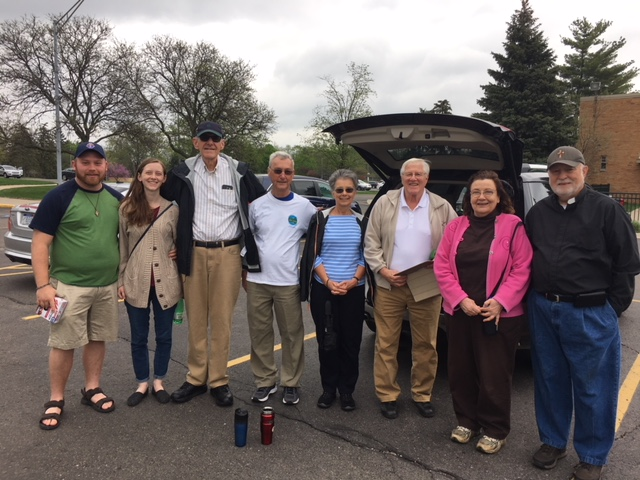 Recently, several members of the East Lansing Catholics Network visited Flint via St. Mary's Parish for an education & awareness experience. Under the veteran direction of Mary Dowsett (Director of "Faith in Flint" for the Catholic Community of Flint), Patrick Brennan (one of our seminarians), Michael Hasso (campus minister for Flint), our own Deacon Ziggy, and Josh and Sarah Hamilton, we walked the streets and neighborhoods of the parish to meet and share with residents, and pray with/for them if they accepted the offer. This was the outgrowth of one of our Soup & Substance programs this past Lent, when Mary Dowsett, Deacon Ziggy, and Deacon Jim shared about our diocesan initiative in Flint. It was a great faith experience for all of us!
I was one of the members of the East Lansing Catholic Network who went to Flint, Michigan to participate in Faith in Flint, a Diocesan initiative to organize people of faith to walk the streets, knock on doors, heal the sick, visit the imprisoned (many, prisoners in their own home), sit with others at soup kitchens, and reach out and simply connect with people in Flint.
As volunteers, we first gathered in prayer to seek the Holy Spirit's guidance, then we broke into small groups before heading out to walk the neighborhood with staff and other experienced volunteers. We walked in groups of 2 or 3, as Jesus did. We wanted to meet the neighbors, to let them know someone cares about them, and begin to establish a positive relationship with them. It was truly an amazing experience, both seeing the neighborhood (many burned out and abandoned houses, as well as perfectly groomed homes) and meeting the people. Those who opened their doors to us also opened their hearts.
Each person's story was very different; some were very optimistic about their lives and the efforts to improve the neighborhood, while others were very pessimistic and spoke of leaving the area. Some had stable lives, several were dealing with multiple health issues, while others had experienced tragedy, including a son's murder. Nearly everyone we spoke with blessed us by allowing us to pray with them and sharing smiles. Nearly all invited us back as we left. Because of our leader's loving attitude and desire to greet anyone and everyone we passed, we also experienced very positive interactions and discussions with those passing by on bikes or on foot!
What an honor it was to follow our spirit-filled leader and be the Lord's feet, mouth, and hands that day in Flint.
 Janice Hudson is a member of the East Lansing Catholic Network, one of NETWORK's Advocates Teams.