Did Congress Strive for Economic and Social Transformation with the 2022 Omnibus Law?
As we begin a new year, NETWORK looks back to see whether Congress made inroads in economic and social transformation with the 2022 Omnibus Law. Every person in our country, whether they live on a sprawling estate, in a farmhouse along a country road, or in a public housing development, should have the resources they need to care for themselves and their families. Sadly, we know that lobbyists and dark money special interests work with some elected officials to block policies that would create just laws and equitable access to economic prosperity.
But NETWORK's community of justice-seekers know that we can have just and equitable communities where all of us–not just the rich and powerful–can have thriving lives. When we work together and join our efforts with others who share our vision for a multi-racial democracy, we can bring about the economic and social transformation for which we strive.
One of the most important pieces of legislation for the Build Anew agenda last year was the $1.7 trillion FY2022 Omnibus. This bipartisan end-of-year spending package made significant investments in healthcare, housing, criminal legal systems reform as well as critical democracy reforms and investments in voting infrastructure to ensure free and fair elections.
For months, NETWORK advocates across the country (like you!) lobbied Congress to include policy priorities in the Omnibus package like the expanded Child Tax Credit, the Pregnant Workers Fairness Act, and a pathway to citizenship for undocumented community members. Justice-seekers called, emailed, and tweeted to Congress, wrote Letters to the Editor, and attended rallies, to advocate for a federal budget that supports just and equitable communities where everyone can thrive. Thank you for your advocacy!
An Overview: Where did Congress Invest in Economic and Social Transformation with the 2022 Omnibus Law?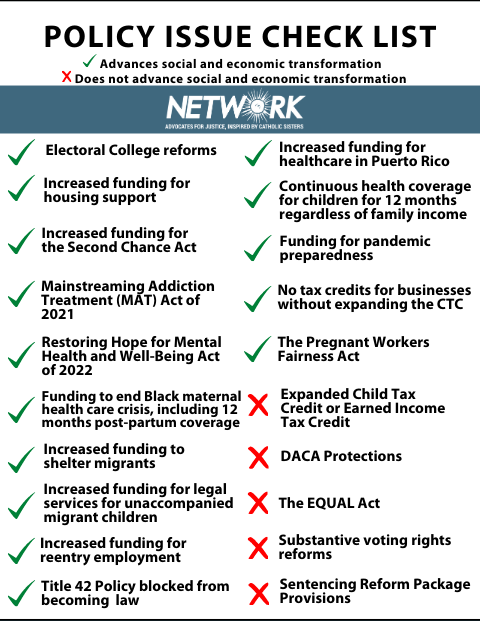 Congress made significant progress toward eonomic and social transformational changes with the 2022 Omnibus in healthcare and housing. Medicaid recipients in Puerto Rico and U.S. territories, and Black mothers who are unable to pay for maternal healthcare receive more aid. For example, Medicaid coverage for new moms is guaranteed for 12 months and infants cannot be removed from Medicaid, or the Children's Health Insurance Program, for a continuous 12 months, even if their family's income changes.
Housing measures support people experiencing homelessness, public housing voucher recipients, people in rural communities, and homeowners.
Movement toward justice in the omnibus legislation is also noted in criminal legal system reforms where new laws bridge significant racial equity gaps in health care, access to housing, and equity in the judiciary and police forces. We hope the funding leads to improved health outcomes and treatment by the criminal legal system for Black, brown and indigenous communities.
The omnibus also includes critical democracy reforms that shore up Presidential elections (Electoral Count Reform and Presidential Transition Improvement Act of 2022) and a $75M investment in election security grants to ensure all votes are counted by continuing provisions from the Help America Vote Act of 2002.
Sometimes, Policy Not Included in a Bill is a Positive Result
NETWORK celebrates the harm avoided in the omnibus. For example, the continued misuse of Title 42 cannot be part of a fair, humane asylum process. It was not codified into law thanks to Democratic Members of Congress who rebuked attempts to incorporate outdated public health policy into permanent immigration law.
Movement Toward Justice in a Polarized Congress
We are disappointed that significant NETWORK priorities were left out of the package but appreciate that Congress took steps toward social and economic reform with some of the omnibus investments. Ultimately, the bipartisan passage of the FY2022 omnibus package was a significant accomplishment in a polarized Congress.
The leadership of Senate Appropriations Chair Patrick Leahy (D-VT), now retired, and House Appropriations Chair Rep. Rosa DeLauro (CT-03) allowed Congress to reach an agreement and fund the government before the end of the year. However, it is unacceptable that more Members of Congress did not support including needed policies like a pathway to citizenship for Dreamers, the expanded Child Tax Credit, and the EQUAL Act.
NETWORK will continue making these issues top legislative priorities into the future and – with your help – continue building support for these common-good policies in the 118th Congress.