Build Anew Series — Part 3

Economic Justice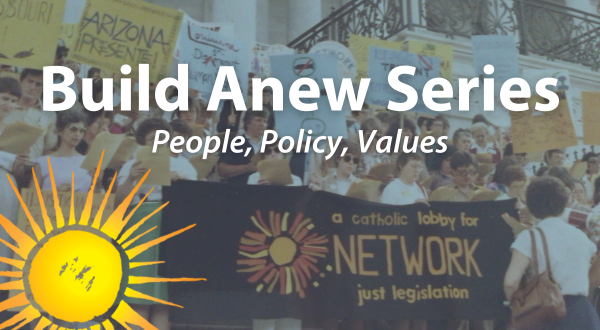 Welcome back to our new

Build Anew Series,

with weekly posts covering the people, policies, and values at the heart of the issues we work on. This week, we're talking about our economy.

 

 
Part 3 – Economic Justice (below)
This week, we're celebrating a big win! Thanks to the advocacy of our communities, supporters, and partners, including our interfaith coalition and our actions to tell "Congress, keep your promise!", Congress averted a government shutdown by passing a clean, 45-day continuing resolution to fund the government. That's the power of the people!
However, our advocacy continues. The budget resolution passed by Congress is only a temporary measure. Congress now has 45 days to pass a budget, and we have work to do to ensure that that budget includes vital funding for the human needs programs — like WIC, SNAP, Head Start, and housing and childcare programs — that help create economic stability in our communities.
A moral budget is fundamental to ensuring our economic security — the topic of this week's installation of the Build Anew Series. That's because the economy is a moral structure that guides not just how we "buy and sell," but how we take care of one another. A just economy is one in which everyone has the resources they need to thrive.
Facts and Figures on the U.S. Economy
Present Realities
Right now, our economy is structured not around real human needs, community well-being, and a preferential option for the vulnerable. Instead, it serves the accumulation of wealth for the wealthiest among us. As economic inequality grows and the racial wealth and income gap persists, people living in the United States are experiencing immoral levels of inequality and poverty every year.
Low- and mid-wage workers face ongoing financial insecurity, only made worse by the COVID-19 pandemic. Low wages, especially the inadequate federal minimum wage and subminimum wage for tipped, youth, and disabled workers, perpetuate systemic racism and disproportionately prevent Black and Brown workers from earning wages that allow them to meet their basic needs and save for the future. This is why economic justice is a matter of racial justice. Without just wages, millions of workers across the country hold two or three jobs just to make ends meet and are one unexpected bill away from financial disaster. Unpredictable scheduling and wage theft cause hundreds of dollars of lost income a month. This economic insecurity and its resulting stress largely fall on women, especially women of color. Women of color provide financial stability to their families and communities, but experience racial and gender discrimination in securing jobs and equitable wages.
Unjust and insufficient labor policies also contribute to economic insecurity. Today, only 13% of workers in the U.S. have paid family leave through their employers, and fewer than 40% have access to personal medical leave through employer-provided short-term disability insurance. In fact, 34.2 million people in the U.S. do not have a single paid sick day! And even with access to unpaid sick days, for many low-wage workers, the lost wages of time off may be too burdensome to take the proper time off to recover from illness, care for a sick child or loved one, receive counseling, or pursue justice after an experience of violence.
Luckily, our policies can change, and have changed. For example, pregnant workers in the U.S. have long faced workplace discrimination in all industries, in every state, across race and ethnicity. Black, Brown, and immigrant birthing parents are at particular risk, as they more frequently hold inflexible and physically demanding jobs that pose additional challenges for pregnant workers. Thanks to the advocacy of communities like NETWORK, such discrimination is now illegal, because of legislation like the PUMP Act and the Pregnant Workers Fairness Act — the passage of which we celebrated in late 2022.
However, our economic policies overall continue to serve profit and fail to recognize our interdependence with one another. Inhumane conditions and unjust compensation deny the dignity of the worker and work alike. The costs of housing, medical needs, child care and education have increased dramatically in recent decades, but wages have not kept up. No one should be without access to safe, affordable housing, clothing, food, water, and rest — yet, this continues to be a widespread reality in the U.S., even among people who work full-time (or more). A livable income is a human necessity in order to provide for oneself and one's family with dignity.
Lived Experience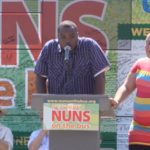 When Darius started working at a McDonald's in Boston, he was offered $8/hour. After three years of working there, his pay increased by only 25 cents. That was the first time he went on strike. He recalls telling his store manager that he would strike until something changes, asserting, "We deserve more. We're worth more."
Darius continues, "It's not like we choose to work in fast food. We have a family to feed, we have to provide for our loved ones, for the people we got to keep safe.… We don't have that opportunity to go on vacation with our families. We work every day, 365, seven days a week if we have to, two or three jobs. I know people that work four jobs." Darius explains how some workers never get a chance to see their kids, recalling how his friend missed his daughter's graduation because he wasn't allowed a day off work.
Darius' employer cut his hours from 40 hours per week all the way down to 10. He says, "I lost my apartment because of them, I lost my way of living… But the one thing I never lost, which they can never take, is my faith. I will never be lost without it…. This is a world that deserves a better economy, a better working economy, an economy that we can be proud of."
Our Values
"The dignity of work and the rights of workers" is a central principle of Catholic Social Teaching. As the U.S. bishops write,
"The economy must serve people, not the other way around. Work is more than a way to make a living; it is a form of continuing participation in God's creation. If the dignity of work is to be protected, then the basic rights of workers must be respected."
These rights include the right to work, to just wages, and to the organization and joining of unions. We have a call and obligation to join with workers to build an economy that works for all people, serves actual community needs, and facilitates the equitable distribution of resources.
The Catholic tradition insists on the dignity of each person, and the Church has spoken on the urgent need to reject an economy of exclusion that treats both the Earth and human beings—especially Black, Brown, and Indigenous human beings—as disposable objects to be used for the accumulation of wealth. Labor policies must affirm the things that make us human: balance, rest, time for recreation and creativity, and care for selves and others. No one should have to work so many hours to make ends meet that all they do is work. Moreover, no one should ever feel compelled to come to work when they are ill, much less lose their job for being sick, grieving, or tending to sick loved ones.
Scripture is a clear source on this point: "Behold, the wages you withheld from the workers who harvested your fields are crying aloud, and the cries of the harvesters have reached the ears of the Lord of hosts" (James 5:4-6), and "Woe to him or her who builds their palace by unrighteousness, their upper rooms injustice, making their own people work for nothing, not paying them for their labor" (Jeremiah 22:13). Refusing to properly compensate labor fails to respect the dignity of the human person, because it reduces humans to tools from which to extract wealth. Workers must be treated with respect and fair compensation, as a matter of protecting right relationships in society and guarding against a culture of use and exploitation. This is why NETWORK enthusiastically supports the recent United Auto Workers strike, and the critical PRO Act which would end "right to work" (which actually takes away worker's rights). Even further, labor should ultimately be structured to serve the actual needs of our communities, not the profits of corporations.
Finally, Pope Leo XIII, all the way back in Rerum novarum states, "When there is a question of protecting the rights of individuals, the poor and helpless have a claim to special consideration. The rich population has many ways of protecting themselves and stands less in need of help." This reflects Catholic notion of the preferential option for the marginalized: the idea that we have a particular obligation to prioritize the needs of those who our economy makes vulnerable. We can do just that by ensuring that Congress protects vital human needs programs like WIC, SNAP, the Expanded Child Tax Credit, and more in the upcoming budget.
Throughout the Gospels, Jesus warns his listeners against worshipping money and accumulating wealth at the expense of their neighbors. Hoarding resources is incompatible with living in right relationship with others and God: "Oppressing the poor in order to enrich oneself, and giving to the rich, will lead only to loss" (Proverbs 22:16). Instead, to build a just society in which all communities can thrive, we need an economy built around solidarity, care for the vulnerable, human dignity, and what the Catholic tradition calls the "common destination of created goods." This phrase means that, as Pope Francis writes in Fratelli tutti, "If one person lacks what is necessary to live with dignity, it is because another person is detaining it… The world exists for everyone, because all of us were born with the same dignity." The Earth has sufficient resources for all of us to flourish; it is up to us to responsibly, ethically, and justly distribute them. A key way to justly distribute resources is through policies that ensure that the wealthiest Americans pay their fair share of taxes — which would be more than enough to fund the programs our communities desperately need to thrive.
It is clear that we are all called to structure our economy not around generating profit for a select few, but around serving our real community needs — especially those of Black and Brown communities, low- and middle- income workers, and all those who our economy has historically left out. We must build anew our economy in a way that justly distributes our abundant resources and enables everyone in our communities to access what they need in order to live in accordance with the fullness of their incalculable worth. That's the meaning of true economic health.
Join us again next week for part 4 of the Build Anew Series on food security. And don't forget to stay tuned on Instagram (@network_lobby) and Facebook for our upcoming Build Anew video series!
WATCH: Click here to watch a recording of NETWORK's Congress, Keep Your Promise webinar about our current campaign to ensure Congress funds critical human needs programs and to learn how you can get involved.