Build Anew Series — Part 4

Food Justice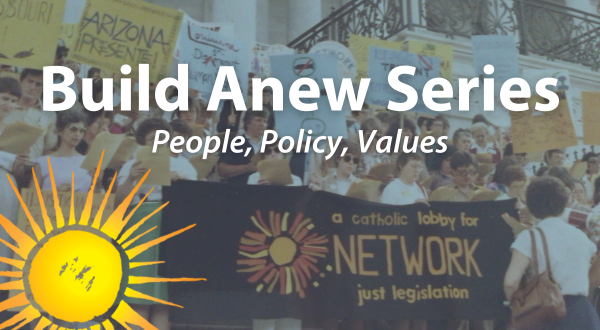 Welcome back to our

Build Anew Series,

with weekly posts covering the people, policies, and values at the heart of the issues we work on. This week, we're talking about food justice, and the Farm Bill.

 

 
Part 4 – Food Justice (below)
Did you know that most of our funding for nutritional assistance programs comes from the Farm Bill? The Farm Bill is a giant legislative package that contains nearly all of our federal agriculture and food policy — and a large part of that is funding for the Supplemental Nutrition Assistance Program (SNAP), which has proven to be one of our most effective policy tools in reducing hunger and promoting healthy and safe communities.
The Farm Bill must be reauthorized every five years, and it just expired on September 30, 2023. Congress issued a 45-day continuing resolution on the budget to avert a government shutdown, and the expiring Farm Bill policies were temporarily continued as well. But over the next month, as Congress needs to decide on a budget or face another shutdown, it is up to us to ensure that SNAP is protected in the Farm Bill, without onerous work-reporting requirements. And in order for those SNAP benefits to be accessible, we must make sure that the Farm Bill includes the RESTORE Act, which will remove unjust and illogical restrictions that exclude some of our most vulnerable neighbors from SNAP.
This week on the Build Anew Series, we'll explore what we're doing to promote food security and expanded SNAP access, through advocating the inclusion of the RESTORE Act in the upcoming Farm Bill. But first, let's put this advocacy in context by talking about the current status of food insecurity in the United States and what our Catholic teaching has to say on the importance of feeding our neighbors.
Facts and Figures on Food Security in the U.S.
Present Realities
Despite a national surplus of food, millions in the United States go to bed hungry each night. According to the Census Bureau Household Pulse Survey data from September 2023, over 26 million adults reported not having enough to eat in the last seven days. Billions of tons of food are produced every year, but the USDA estimates that up to 40% of that food is wasted — while many of our communities go without. This is a gross injustice.
Food insecurity persists for millions of people in the U.S., but especially for Black and Brown communities. Access to nutritious food continues to be a racial justice issue. 40% of Black and Latine families were food insecure during the COVID-19 pandemic. Black and Latine children are twice as likely as white children to experience hunger. This is compounded by the fact that food deserts — neighborhoods without feasible access to affordable and healthy food — are disproportionately found in Black and Brown communities.
Food insecurity is linked to other forms of economic stress — like soaring housing costs and health care bills. In times of financial stress, we may be compelled to skip or shrink meals in order to pay other bills. This creates a vicious cycle of harm, as lack of nutritious foods leads to increased risks of illness and hospitalization.
We know that nutrition assistance programs work. SNAP has proven to be our nation's most effective anti-hunger program. It is the main form of nutrition assistance for many low-income people and families, including elderly and disabled community members. SNAP overwhelmingly supports households living at or below the poverty line, and a quarter of SNAP beneficiaries are children. Programs like SNAP help our families and neighbors— including people who work full-time — to make ends meet and stay afloat through hard times. Yet, several Republicans in Congress have made it clear that they are not only willing but actively seeking to cut funding for SNAP and similar food security programs in the upcoming budget — an unconscionable neglect of basic human needs that urgently calls for our advocacy.
Our Values
"What we would like to do is change the world — make it a little simpler for people to feed, clothe, and shelter themselves as God intended them to do."
—Dorothy Day, The Catholic Worker, June 1946
Catholic Social Justice Teaching calls us to uphold the dignity of each person as an equally valuable member of the global family. Because dignity refers to what people deserve by virtue of their humanity, upholding dignity means ensuring that each person has what they need to live well. At the most basic level, each person needs to eat.
Food was essential to Jesus' ministry: in feeding the five thousand and sharing in meals with his disciples, he demonstrated that God cares about the sustenance of our spirits and bodies. Jesus affirms in the Gospel, "For I was hungry and you gave me food, I was thirsty and you gave me something to drink" (Matt 25:35-36). Scripture broadly emphasizes the immorality of allowing siblings to go without: "If a brother or sister has nothing to wear and no food for the day, and one of you says to them, 'Go in peace, keep warm, and eat well,' but you do not give them the necessities of the body, what good is it?" (James 2:15-16).
Moreover, Catholics worship and share fellowship at a table, and the core of the Catholic faith — the Eucharist — is built on a meal! In the Bible, the Church, and our communities, food is communal. Feeding one another is both a central theological command and the substance of what it means to live in a community and to love our neighbors.
It is a moral failing that we allow communities, especially children and families on the margins, to experience hunger. It is our most fundamental obligation to work to eradicate hunger in all its forms, especially through policy. We believe that our food policy should exhibit a preferential option for the most vulnerable among us — focusing on eliminating food insecurity for children, the elderly, and all people experiencing poverty. Food assistance programs should never include burdensome, capitalist, and scientifically un-based restrictions, like work requirements or other standards. Programs should allow people to receive nutrition assistance with dignity, enabling people to meet dietary and cultural needs and access a variety of foods necessary for good health, like fresh fruits and vegetables.
Bolstering our nutrition assistance programs is crucial, but ultimately, intervening to end hunger, malnutrition, and food insecurity will demand that we re-think our systems of food production. Agro-business and industrialized agriculture, with its monocultural and toxic farming methods, is extremely ecologically destructive and fails to produce a diversity of nutritional food, and often exploits workers. It also makes our communities reliant on outside sources for our food — with produce often having to travel far to reach us. We are called restructure our food systems around accessibility, ethical and sustainable practices, community engagement, ecological health, and eliminating waste. Ecologically- and community- oriented food systems align with the Catholic view of the human person by affirming our interconnectedness with the Earth, making nourishment accessible, and strengthening our communities.
The RESTORE Act
SNAP serves 42 million people each year, but many otherwise eligible beneficiaries cannot access SNAP assistance. Some of these barriers include administrative burdens, or lack of accessible transportation to the nearest government center.
A huge barrier, however, is structural exclusion. There is currently in place a lifetime ban on SNAP for people convicted of drug felonies. While most states have opted out of the ban, 21 states continue to have modified bans.
This ban is completely unjust, immoral, and illogical, directly harming people who are usually leaving prison with little to no assets or income (and who then face difficulty finding employment because of workforce discrimination against formerly incarcerated persons). The SNAP ban punishes people who have already served their sentences, and it punishes their families, which often include children. And because mass incarceration targets Black and Brown communities, this ban has a disproportionate impact on people and families of color— especially women. Women comprise the majority of SNAP recipients, are also disproportionately incarcerated for drug-related felonies.
Research shows that full access to SNAP benefits reduces the likelihood of recidivism by 10 percent for people previously incarcerated for drug offenses. Our neighbors returning from prison are simply seeking to create stable lives for themselves and their families. The SNAP ban is totally antithetical to the creation of thriving communities, it denies dignity, and it is flat out wrong.
As part of the current Congress: Keep Your Promise! campaign, NETWORK and our partners are advocating that the Farm Bill include the RESTORE Act, which would end the lifetime ban on SNAP for people convicted of drug felonies. The RESTORE Act would ensure that people returning from prison can access nourishing food for themselves and their families, and help them get steady as they re-enter their communities outside of prison. Learn more about how you can take action here.
Lived Experience
Serena Martin-Liguori from New Hour, Long Island, NY
"The inclusion of the RESTORE Act in 2023 Farm Bill will literally create safety. [At New Hour], every year we work with 2000-3000 women returning to our community. Access to healthy food is at the top of their list. 1 out of 3 Americans has a conviction. If you ban people from accessing healthy food, it means that you are indeed creating an unsafe environment for yourself and your community…. we are harming ourselves because it means more people in our community are not getting the support and services they need to simply put food on their table, and that is unconscionable.
As a formerly incarcerated Latina myself, the struggle to make sure that basic needs are met for women and children who have been impacted by incarceration is huge. We believe that when you have taken accountability for any harm done… once you are released, that should be the end of your sentence. You should no longer be penalized. And yet we know, in the US, the mass incarcerator that we are, we continue to penalize people for the rest of their lives — and not just them, but their children, grandchildren, and financial stability. And that has to end this year. We need to continue to find ways to create equality, and the inclusion of the RESTORE Act would certainly do that. Here on Long Island, we continue to advocate for the RESTORE Act."
Click here to watch NETWORK's recent Congress, Keep Your Promise! webinar to learn more about the RESTORE Act and our advocacy this fall for a moral budget. 
Join us again next week for part 5 of the Build Anew Series on taxes. And don't forget to stay tuned on Instagram (@network_lobby) and Facebook for our Build Anew video series!