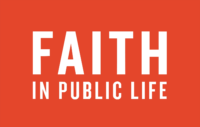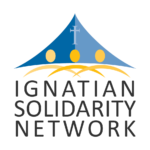 For Immediate Release: November 12, 2019
Contact: Lee Morrow, lmorrow@networklobby.org, 202-601-7871
Catholic Groups Unite In Support Of DACA Program with Rosary Walk and National Rally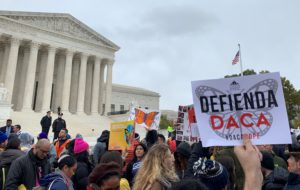 WASHINGTON, D.C. – Today, Catholics from across the United States gathered at Columbus Circle in Washington, D.C. for a Rosary Walk, calling attention to the U.S. Supreme Court hearing on the Deferred Action for Childhood Arrivals (DACA) program.
The Rosary Walk was led by DACA recipients and activists in the faith community, and culminated at the steps of the U.S. Supreme Court joining the national rally organized by the Home is Here campaign.
The Rosary Walk was co-organized by the United States Conference of Catholic Bishops' Justice for Immigrants with core members, including the Ignatian Solidarity Network, NETWORK Lobby for Catholic Social Justice, Faith in Public Life, the Jesuit Conference Office of Justice and Ecology, Franciscan Action Network, and the Leadership Conference of Catholic Religious, and with the Association of Jesuit Colleges and Universities.
Bishop Joe S. Vásquez of Austin, Chairman of the United States Conference of Catholic Bishops Committee on Migration said:
"We need a permanent legislative solution for those who have spent their lives contributing and living in the United States, the country they know as home. They have lived in limbo for far too long and now is the time for a solution."
Carol Zinn, SSJ, Executive Director of Leadership Conference of Women Religious said:
"As women of faith, Catholic sisters take seriously the Gospel call to welcome those in need and to honor the dignity of all people. Women religious have a long history of accompanying our immigrant neighbors in schools, hospitals, and social service agencies along the southern border and across the country. We know first-hand the fear and uncertainty that plagues immigrant young people and their families.
"President Trump's decision to terminate Deferred Action for Childhood Arrivals (DACA) was unfair and badly misguided. DACA provides a common-sense path to stability for families, communities, and local economies and it is a reaffirmation of core American values. His action cannot stand.
"We will stand with DACA-recipients as we wait for the Supreme Court to render justice and we will continue to advocate for legislation that provides a clear path to citizenship without funding for detention, deportation, border militarization, and without limits to family reunification."
Giovana A. Oaxaca Najera, Government Relations Associate, NETWORK Lobby for Catholic Social Justice said:
"The outcome of the DACA cases at the hands of the Supreme Court weighs heavily on the immigrant community. The fear and uncertainty can be fairly oppressive, but today's rally gives new breath to the impetus for legislative action, and hope to our communities. In this moment, we are reminded that DACA granted extensive protections for qualified individuals, but many more, remain in the shadows. I'm pleased to be a part of the faith community's response, as we pray for a just way forward for DACA recipients and others affected by the Trump administration's cruel immigration policy."
José Arnulfo Cabrera, Director of Education and Advocacy for Migration for Ignatian Solidarity Network said:
"It's a troubling time for DACA recipients today, and for the next four to seven months. Tomorrow we won't just pray for the Justices and for DACA recipients, but for strength to continue working towards Humane Immigration Reform and ending the criminalization of immigrants of color."
Lyra Kim, undocumented Korean marcher from National Korean American Service & Education Consortium (NAKASEC) said:
"People use the word 'Dreamer' to mean undocumented young people with big dreams of going to college and contributing to the economy as upstanding members of society. We must support undocumented young people as the first step, but we must also think about who the 'Dreamer narrative' leaves behind. It leaves behind our parents, the original Dreamers, people who don't have access to college, and people who are formerly incarcerated. All of these people also deserve a pathway to citizenship, and as one family, we don't leave anyone behind! That's why we're all here to say, 'DACA and TPS today, citizenship for all tomorrow!'"
###
NETWORK Lobby for Catholic Social Justice – advocates for justice inspired by Catholic Sisters – educates, organizes, and lobbies for economic and social transformation. They have a 46-year track record of lobbying for critical federal programs that support those at the margins and prioritize the common good. www.networklobby.org