For Immediate Release: July 7, 2022
Contact: Colleen Ross, cross@networklobby.org, 202-601-7877
Catholic Sister Receives Presidential Medal of Freedom
Sr. Simone Campbell, SSS: "This award recognizes each and every advocate for justice who accepts the moral call to participate in politics to advance the common good." 
WASHINGTON, D.C. – Today, President Joe Biden presented Sister Simone Campbell, SSS, former Executive Director of NETWORK Lobby for Catholic Social Justice with the Presidential Medal of Freedom along with 16 other individuals who have "made exemplary contributions to the prosperity, values, or security of the United States, world peace, or other significant societal, public or private endeavors."
While leading NETWORK from 2004 to 2021, Sister Simone Campbell  founded and led seven cross-country "Nuns on the Bus" tours across the country, pioneered efforts to organize Catholics in progressive politics, and protected access to health care for millions of Americans.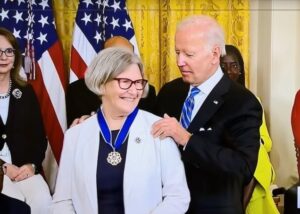 "I am overwhelmed and grateful for this honor," said Sister Simone Campbell upon receiving the nation's highest civilian award. She continued, "This award recognizes each and every advocate for justice who accepts the moral call to participate in politics to advance the common good. I am so grateful for the opportunity to lift up all of our work! For me it is a gift of the Spirit!" 
"Sister Simone propelled NETWORK's mission of political ministry into the national spotlight with her committed advocacy for justice," Mary J. Novak, NETWORK's Executive Director said after witnessing Sister Simone receive the award. "As we celebrate our 50th Anniversary, the NETWORK community is overjoyed—and enlivened—to see this award bestowed on Sister Simone in a time of rising tension and threats to our democracy. Sister Simone and all of the awardees remind us of the power of possibility and hope."
"Like all Sisters of Social Service, Sister Simone Campbell strives to live out the mission of the community, advocating peace and justice for the common good in light of the Social Mission of the Church," said Sr. Maribeth Larkin, General Director of the Sisters of Social Service, who also attended the ceremony. She continued, "We are grateful that Sr. Simone's fidelity to that call to justice is being recognized and we celebrate that our community, in its almost 100 years, has grown from an immigrant community of women founded in Hungary in 1923 to one rooted in justice in the United States and the nations where we minister, including Taiwan, Mexico and the Philippines."
During the award presentation President Biden said, "Compassionate and brace, humble and strong, Sister Simone remains a beacon of light. She is the embodiment of a covenant of trust, hope, and progress for our nation."
ABOUT NETWORK
NETWORK was formed 50 years ago when a group of Catholic Sisters felt the need to collaborate and engage in political activism around social justice on the federal level. NETWORK now includes tens of thousands of individuals from all walks of life united in answering the call for justice.
NETWORK's mission arises out of this long tradition of working to create a society that promotes justice and the dignity of all persons in the sacredness of God's abundant creation. NETWORK is a Catholic leader in the global movement for justice and peace advocating on federal policy that relates to health care, immigration, racial justice, economic justice, and more. 
###
NETWORK Lobby for Catholic Social Justice – advocates for justice inspired by Catholic Sisters – educates, organizes, and lobbies for economic and social transformation. They have a 50-year track record of lobbying for critical federal programs that support those at the margins and prioritize the common good. www.networklobby.org