Nuns on the Bus in South Bend
Jessica Brock
October 19, 2018
The following remarks were delivered by Jessia Brock, attorney, at the Nuns on the Bus Rally in South Bend.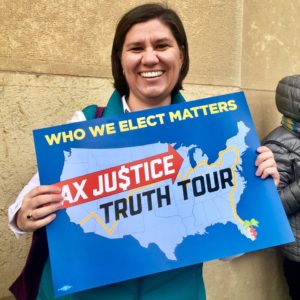 Good afternoon.   Your presence here is so important.  Thank you for being here.  Your voice needs to be heard.  And your vote is your voice.
My name is Jessica Brock.  I am an attorney here in South Bend, and my law practice has primarily served people living below the federal poverty line.  Most of my clients rely on income from SSI or Social Security Disability.  They rely on Medicare or Medicaid for healthcare coverage.  And they rely on other human needs programs like housing vouchers and food stamps in order to make ends meet, put food on their tables, and keep their families safe. I see on a daily basis how these programs make the difference, quite literally, between life and death.  One unexpected and expensive life event  – like the illness and death of a loved one or flooding like we experienced in February – can put a family barely making ends meet in serious financial trouble, and it is often difficult if not impossible to recover from such a setback.
In South Bend, almost 1/5 of the population lives below the federal poverty line.  That means there's no wiggle room in the household budget – certainly no money for big, unexpected expenses.  The poverty rate here for whites is about 17%, for people of color as a whole it's about 33%.  For African Americans in South Bend it's about 42%.  Not only do we have income inequality.  We have racial inequality.
Republicans passed an immoral tax law in 2017, which prioritizes tax cuts for the highest income brackets and biggest businesses on the dime of basic human needs.  In 2017, the federal deficit went up 17%, and Republicans are blaming this on Social Security, Medicare, and Medicaid.  The truth is the immoral tax law is to blame for the deficit increase as well as increased government spending approved by the Republican-controlled Congress.  We do not have reasonable revenue for responsible programs.
People here are already struggling to meet basic needs.
There are women, survivors of domestic violence, in South Bend who are unable to afford to change the locks on their homes in order to protect themselves and their children from their abusers.
There are older adults in South Bend who cannot afford to pay for their burial.  They may have a family burial plot, but they can't afford to pay for the cremation/burial and transportation to be buried with their loved ones.
We lost my father unexpectedly to brain cancer this April.  A simple funeral can easily cost $10,000.  All of the expenses were due upfront.  That's a financial burden many cannot handle.
The truth is that Social Security and Medicare are paid for through separate payroll taxes.  They do not add to the national debt.  In fact, Social Security has a $2.5 trillion surplus right now.  The sad truth is that we are using the Social Security trust funds to finance our overspending on programming that does not meet basic human needs like being safe in our homes, having food to put on the table, healthcare, and dying with dignity.  We are robbing human needs programs in order to cut taxes for the rich and for big business.
There seems to be little we can agree on these days, as our leaders have played on our fears in an effort to divide us.  But there is much we have in common.  We all want to be safe.  We all need to eat and sleep.  We all want to be healthy, and we will all get sick.  We will all encounter unexpected, traumatic, and expensive life events that can quickly change our financial stability.
At times, it can seem like there is nothing we can do.  But that's not true.  We can vote.  It's free.  It doesn't matter who you are, each vote counts the same.  Your vote is your voice.
Vote!  If you think that the government shouldn't take from the poor to benefit the rich.  Vote!  If you want reasonable revenue for responsible programs.  Vote!
It's We The People.  It's us.  And we have a job to do.  No one can do it for us.   Let's get out and vote!
View more photos from this event here.