NETWORK Lobby Voting Record 2021
117th Congress – 1st Session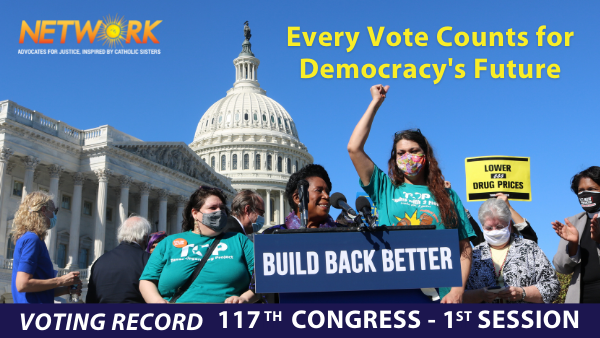 A violent, anti-democratic insurrection, restrictive voting laws passed in 19 states, and a Supreme Court decision further weakening the 1965 Voting Rights Act, our democracy faced serious threats in 2021. In the first session of the 117th Congress, NETWORK recommended 'Yes' votes on bills that provide COVID-19 relief, protect workers' rights and voting rights, create a pathway to citizenship, and reform racist sentencing disparities, as well as the transformational Build Back Better Act. Unfortunately, most bills never advanced past the House due to the willingness of Republican Senators to utilize the racist, Jim Crow-era filibuster.
Members' scores are a reflection of their commitment to protecting our democracy and to advancing the common good. These votes have consequences for our nation and for our people. Download the 2021 Congressional Voting Record.
Become a NETWORK Member and Receive the Voting Record in the Mail