Write a Letter to the Editor Supporting the Child Tax Credit
Letters to the editor (LTEs) are a powerful advocacy tool. They are among the most widely read sections of newspapers and magazines and are closely monitored by Members of Congress to find out what their voters are thinking. When LTEs are strategically coordinated and published, they can strengthen the impression of widespread support or opposition to an issue or piece of legislation. Often, they can influence editorial writers to take a stand or influence other members of the media to probe an issue more deeply. While they start out as one voice, LTEs can build a movement!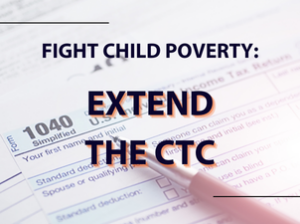 Your LTE about the Child Tax Credit is incredibly timely, as we are calling on Congress to extend the expanded Child Tax Credit before the end of the year! Also, your letter is contributing to nation-wide, targeted, multi-tactic strategy to make sure that 19 million children and their families can receive the full Child Tax Credit!
Tips for Powerful LTEs
Follow guidelines of the publications to ensure you have the correct length, style, and format. Remember that most publications prefer letters to be 250 words or less.
Timeliness is key. Many newspapers publish letters responding to articles, editorials, or other letters the day after they appear.
Frame your letter in relation to a recent news item or topic. A letter is more likely to be published when it is written in response to something that has appeared in the publication.
Use local, specific information whenever possible. To find your state specific data, please go to https://www.cbpp.org/research/federal-tax/year-end-tax-policy-priority-expand-the-child-tax-credit-for-the-19-million 
Be aware of your audience: use talking points that will appeal to the readers, avoid jargon and abbreviations, and do not engage in personal attacks.
Include your credentials
If you are using a sample letter from an organization, do not copy talking points verbatim. Papers can search for canned content after it is published one time.
1. Start with your qualifications.
"As a Catholic who is dedicated to living out the social mission of my Church, I am calling upon Senator Cornyn to support an expanded, fully refundable, monthly Child Tax Credit (CTC)."
2. Tell them what you think!
"It is a moral imperative to end child poverty and hunger, and Congress has a tool do just that with the CTC. This program has a proven, transformative impact on the lives of children and families. We know that the expanded CTC led to historic reductions in child poverty, especially for Black and Latino children. However, under current law, there are over 2.1 million children—including over 1.7 million Latino and Black children–in Texas alone who are excluded from the full CTC because their families' incomes are too low. It is not only just but common sense to make the full CTC available to these families!"
3. Bring it together with a legislative ask.
"I call on Senator Cornyn to support an expanded, fully refundable, monthly Child Tax Credit. All of Texas' children, from the Panhandle to Dallas to the Gulf Coast, deserve to live healthy and productive lives, and the Child Tax Credit is important way to support children and families."
Find submission guidelines on your local paper's website and send.
Found on the same page where you found length rules.
Submission will either be to an email address or online form.
Quick Tips:
You can write to multiple local papers.
It helps to tie your LTE into a recent story run by the paper.
Wait three weeks before repeating.
For additional information about writing and submitting a letter to the editor, watch this training from former NETWORK Press Secretary Lee Morrow: